'Infinity War' Star Chris Evans Won't Return to MCU After 'Avengers 4'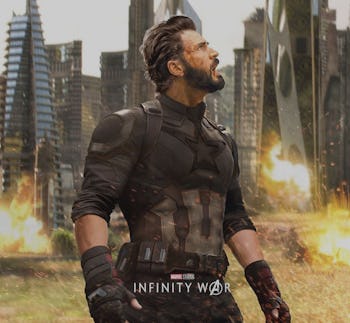 Marvel Studios
Heroes rarely die in Marvel movies, but it seems like the upcoming Infinity War is going to change that, not just because the stakes have never been higher, but because some of the actors' contracts are up. Chris Evans's contract famously ends after the still untitled Avengers 4, so fans have long suspected that he might meet his end in an upcoming film. Whether or not he'll die is still unknown, but Evans says he is done with the MCU after Avengers 4, one way or another.
"For now, he has no plans to return to the franchise," writer Reggie Ugqu explains in a lengthy profile in the New York Times that came out on Thursday. He will take part in some upcoming reshoots for Avengers 4, but Evans expects that bit of filming will be the last time he ever wield's Captain America's iconic shield.
"You want to get off the train before they push you off," Evans said.
Evans originally had a six-picture deal with Marvel, but he agreed to extend it by one film in order to fit in Avengers 4. For Captain America fans, confirmation that Evans is indeed going to be in the next Avengers could hint that Cap won't fall in battle against Thanos in Infinity War. That said, there's always the possibility that his Avengers 4 appearances are flashbacks, or that some weird cosmic shenanigans have brought him back to life.
The bulk of the NYT profile is about what comes next for Evans after Captain America, so there aren't any other substantial clues for MCU fans. Evans is preparing for his Broadway debut in the play Lobby Hero, which opens on March 26 at the Helen Hayes Theater. He grew a mustache for the role, and as we've seen, it's very hard to be in a superhero movie with a mustache. This is the end, for real.
Avengers: Infinity War opens on April 27.