Tesla Roadster 2020 Spotted at Hawthorne Factory With Awesome Giant Screen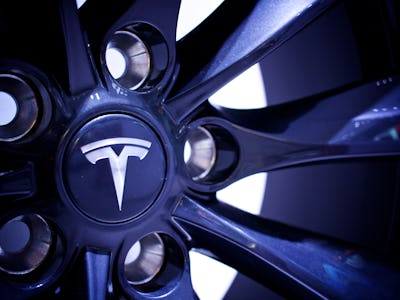 Flickr / cchana
Tesla's second-generation Roadster is making even more regular appearances. The company's upcoming electric supercar isn't due for launch until 2020, but a number of Model 3 buyers got an up-close peek at the vehicle during a visit to the Hawthorne, California, factory over the weekend.
The images show the car in a gorgeous cherry red, perched outside the factory. CEO Elon Musk signed Model 3s as reservation holders invited down to the factory got a peek at Tesla's next big project. Viewers got a look at the giant central touchscreen, used for entering the high-performance "Plaid" mode, and the curiously-shaped steering wheel. The car was first announced at the Tesla Design Studio in November 2017 alongside the Tesla Semi truck, with a $250,000 price tag and a 200kWh battery capable of running for over 600 miles on each charge, but it's only made a few limited public appearances in the ensuing 10 months.
See more: Tesla Roadster Images Show How a 'Star Wars' White Edition Would Shine
It's set to offer 0 to 60 mph acceleration times of just 1.9 seconds, 0 to 100 mph in 4.2 seconds, a quarter mile in 8.8 seconds, and a top speed of over 250 mph. That could be a conservative estimate of figures, with racer Emile Bouret claiming that Musk may have undersold the specs of the car, describing the vehicle as a "proper weapon." Musk has also suggested that the battery could see improvements prior to launch, as the current design is essentially two Model S P100 packs strapped together.
It's not the only appearance of the Roadster since its debut. The car was also spotted at the Grand Basel auto event in Switzerland, held on September 6 to 9, pictured in a fetching white color. With the sleep design, side-mirror-free concept, clean white lines and black window contrast, the vehicle drew comparisons to Star Wars stormtroopers.
Expect more details about the Roadster before it hits roads in 2020. The company may also use its next quarterly earnings report, currently expected around November time, to announce further details about the car.
There could be more surprises on the way before then. Musk announced this summer that the car will offer a SpaceX options package, using 10 small thrusters to improve acceleration.