SEC Says Elon Musk Chose $420 Tesla Stock Price Partly to Make Grimes Laugh
The commission has taken action against Musk.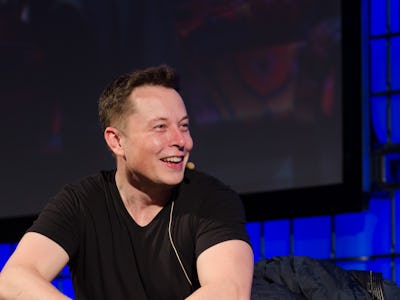 Heisenberg Media
Elon Musk announced plans to take Tesla private at $420 per share last month, a figure he chose in part because he thought his girlfriend Grimes would find it funny.
The Securities and Exchange Commission filed a suit with the United States Southern District Court of New York on Thursday, alleging that the CEO made a series of false and misleading statements when he declared on Twitter that he'd secured the funding to buy back shares at a higher price to take the company off the stock exchange. While some speculated at the time that the tweet was a joke, due to the resemblance to the "420" joke in weed culture, subsequent actions suggested Musk was serious.
The SEC complaint states that he chose the figure in part to impress his girlfriend. Musk was publicly dating Canadian pop star Grimes at the time, but their relationship was drawn into question when the pair unfollowed each other on Instagram after the stock price controversy. Musk refollowed Grimes on Twitter earlier this week. The complaint notes in paragraph 24:
According to Musk, he calculated the $420 price per share based on a 20% premium over that day's closing share price because he thought 20% was a "standard premium" in going-private transactions. This calculation resulted in a price of $419, and Musk stated that he rounded the price up to $420 because he had recently learned about the number's significance in marijuana culture and thought his girlfriend "would find it funny, which admittedly is not a great reason to pick a price."
Musk's tweet on August 7 set off a chain of events, as he claimed that he had "funding secured" for the plan. In a blog post six days later, it emerged that Musk left a meeting with the Saudi Arabian public investment fund on July 31 with "no question" that a deal could be struck. On August 24, he announced that he would abandon the plan after speaking with investors.
The CEO has a habit of peppering his work with pop culture references, making regular nods to Spaceballs and The Hitchhiker's Guide to the Galaxy in naming his company's output. However, Musk had previously dismissed suggestions from the New York Times that the figure had anything to do with weed culture.
"It seemed like better karma at $420 than at $419," Musk said. "But I was not on weed, to be clear. Weed is not helpful for productivity. There's a reason for the word 'stoned.' You just sit there like a stone on weed."
In a live appearance on The Joe Rogan Experience this month, Musk made headlines after he smoked weed live on air. Musk claimed "I'm not a regular smoker of weed," and that he smokes "almost never…I don't actually notice any effect…I know a lot of people like weed, and it's fine, but I don't find it very good for productivity…it's like a cup of coffee in reverse. I like to get things done, I like to be useful, that is one of the hardest things."
Read the full complaint as uploaded by Electrek below: