'Atlanta' Season 2 "Robbin Season" Got Robbed at the 2018 Emmys
Snubbed by the Television Academy.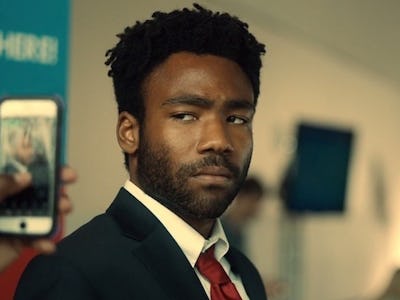 FX
When Donald Glover and the team behind Atlanta named the show's second season Robbin' Season they probably didn't see this coming, but at the 2018 Emmy Words, Atlanta got robbed. The trippy, hilarious, and edgy show's excellent Season 2 was all-but snubbed by the TV academy, which instead showered down awards on Amazon's The Marvelous Mrs. Maisel.
Don't get me wrong. Marvelous Mrs. Maisel is a great show with a potent message about female empowerment. The writing and directing are excellent (and award-worthy), as are the performances by Rachel Brosnahan and Alex Borstein (who both took home awards). But when one great show sweeps the awards and another equally amazing one gets snubbed it just feels wrong.
Atlanta got snubbed. Zazie Beets got snubbed. Donald Glover got subbed. That last one is particularly disappointing since he apparently showed up to the Emmy's dressed as Teddy Perkins from that one amazingly weird episode.
Imagine this guy onstage accepting an award.
The only award Atlanta brought home from this year's Emmys went to Katt Williams for his guest role as Uncle Willy the "Alligator Man" in the Season 2 premiere. But that award was announced earlier this month. Katt was never invited on stage.
On the plus side, at least the wait for Atlanta Season 3 won't be quite as bad as the massive gap between Seasons 1 and 2. The show is already confirmed for more episodes on FX coming sometimes in 2019, though it's unclear when exactly that will happen and which Emmy Awards the next season will qualify for.
Either way, hopefully, it won't be too long before we see Glover or another member of the cast up on the Emmy Awards stage accepting a well-deserved award of their own.