You Can Pretty Much Bet Venom Will Be in Insomniac's 'Spider-Man' Sequel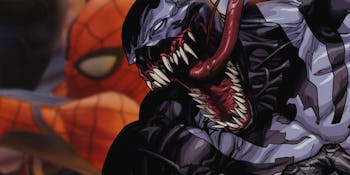 Marvel Entertainment
With all of New York's criminal underworld webbed up in Marvel's Spider-Man, gamers may be curious when it's time for another swing. DLC will be released for the game very soon, but some are already curious if a sequel is in the cards. Nothing is confirmed, but if it does happen, Insomniac teases even more of Spider-Man's universe will be explored.
Which can only mean what the game's mid-credits stinger teases: It's Venom, baby!
On Friday, Insomniac's Bryan Intihar, director of Spider-Man, told IGN that Insomniac aims "to keep you engaged in our Spider-Man universe." It's why Insomniac promised three DLC expansions from the get-go, which Intihar promises are "not just activities, this is a full story."
"Nothing to announce [regarding a sequel] but we obviously want to keep you engaged in our Spider-Man universe," Intihar said.
Nothing about Venom or other villains besides Black Cat's DLC episode were teased, but that's because Insomniac did that already.
Spoilers for Marvel's Spider-Man ahead.
In the post-credits scene of Spider-Man, it's revealed that Harry Osborn — Peter's best friend who left behind Oscorp scientific research stations scattered across Manhattan — didn't actually travel abroad to Europe. He's been in New York under Oscorp care, being treated for a bizarre illness: He's infected by the alien symbiote that creates the super-villain Venom.
Never in Harry Osborn's comic book history has he been infected by the symbiote to become Venom. He's always been Green Goblin, or New Goblin, and in most stories it's rival journalist Eddie Brock who becomes Venom. But in the animated TV series Ultimate Spider-Man, that's exactly what happened when Harry Osborn was infected by the symbiote and went on a rampage as Venom in the show's first season.
In true Marvel tradition, Insomniac has done all the heavy lifting for Venom in just the extra credits scenes. While it's possible the storyline will be explored in future Spider-Man content, be it DLC or full-fledged sequels, fans can rest knowing it'll happen one day.
Besides, there's already enough Venom to go around this year, when Tom Hardy stars in the movie Venom, which hits theaters on October 5.
Marvel's Spider-Man is available now on PlayStation 4.