What to Know About the 'Fortnite' Road Trip Challenge Ending in Week 10
Is there a Secret Battle Star or Hidden Banner?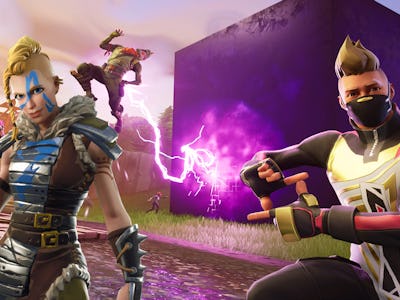 Epic Games
The Season 5 Road Trip challenge, it would seem, ended before Week 10 even started. So far, it looks like there are no Secret Battle Stars or Hidden Banners left in the whole season. All we have to do is sit and wait for the Purple Cube to maybe destroy the world.
Usually, the Road Trip challenge unlocks a new loading screen each week when players complete all of the challenges in a given week. Then, based on a clue within each Loading Screen, they can find either a secret Battle Star or a Hidden Banner. But the Road Trip challenge in Week 9 unlocked two loading screens: Six Sided Mystery and Dark Reflection. Even after Week 10 kicked off Thursday, September 13 at 9 a.m. Eastern, there are no hidden clues in the second image to indicate any secrets for players to find.
You know, other than the fact that the bizarre Purple Cube is evil and might destroy the world.
The Week 10 Dark Reflection Loading Screen hinted that the big Purple Cube is totally some kind of evil, reflecting a sinister-looking doppelganger of Brite Bomber, and the llama on her shirt looks more like a mean dragon.
Currently, the weird Purple Cube continues to slowly move around the island. In several locations around the map, it's left gravitational distortions and some kind of runes burned into the landscape. Most players theorize that the cube will bring about catastrophic changes to the Fortnite map by the end of Season 5. One way or another, it's bound to do something that'll help usher in Season 6.
According to the Season 5 Battle Pass, Season 5 should end on September 24, 2018 with Season 6 following soon thereafter.
Related video: 'Squad Up' is the Inverse talk show that takes place entirely inside 'Fortnite'. Follow us on Twitch!