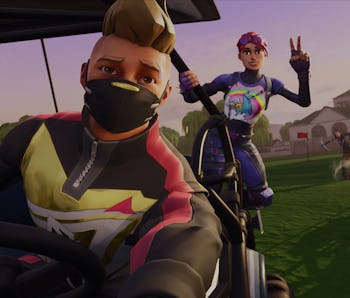 Gaming
In 'Fortnite', Search Between a Covered Bridge, Waterfall, & 9th Green Here
Try to avoid those flying golf balls when hunting for this one.
Epic Games
The final week of Fortnite: Battle Royale Season 5 is nearly here, and early leaks suggest that the classic "search between" model is back.
Week 10 challenges in Fortnite should kick off Thursday morning at 9 a.m., barring any surprise delays, and the leaks say that one challenge has players "Search between a covered bridge, waterfall, and the 9th green." The "9th green" obviously references a golf course, so this secret location is near Lazy Links in the northern part of the map.
Here's a map approximating the location that this Battle Star can probably be found, triangulating based on the bridge, waterfall, and 9th hole of the Lazy Links golf course:
This small area has a few sand trap bunkers next to a garage, and the going theory is that the Battle Star will be located just east of the garage on a dirt patch in the middle of some grass. The presumed location can't be confirmed until after the Week 10 challenges go live, but it's highly likely that this one will be accurate.
These challenge leaks come straight from Fortnite Tracker, a source that despite having a reliable amount of accuracy in the past, got several Week 9 challenges wrong this time last week. These days more than ever, we should question the accuracy of challenge leaks, which is why Inverse will definitely follow up with a second guide confirming the location.
The impending end of Season 5 could bring with it some radical changes to the map. Past seasons demolished entire named locations with meteors or ripped open the sky with a weird rocket launch.
Last season, Week 10 lasted almost a full week and a half, so players will probably have close to 10 full days to wrap up all any remaining challenges from Season 5.
According to the Season 5 Battle Pass, Season 5 should end on September 24, 2018 with Season 6 following soon thereafter.
Related video: 'Squad Up' is the Inverse talk show that takes place entirely inside 'Fortnite'. Follow us on Twitch!