Strategy Guide for the Final Week of 'Fortnite' Season 5 Challenges
It's not too late to unlock those Season 5 skins.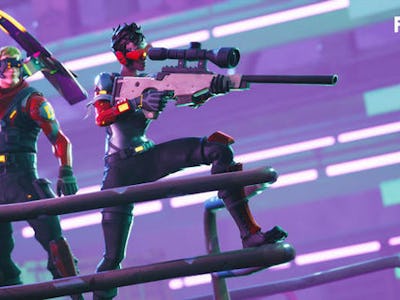 Epic Games
It's Wednesday, and you know what that means: Fortnite: Battle Royale challenges are coming for Week 10 (the final week of Season 5), and as per usual they've leaked early courtesy of dataminer Twitter account @FortniteTracker (via VG247). Here's a quick rundown of all the leaked Week 10 challenges, and what you can expect from each of them.
Before we dive in, a quick note. Typically these leaks are pretty reliably since dataminers are basically just parsing through the information hidden in Tuesday's weekly update. However, last week the leaks got a bunch of challenges wrong, so heading into Week 10 you may want to take this list with a grain of salt.
Fortnite Week 10 Free Challenges
Search Jigsaw Puzzle Pieces in Basements (7)
This is a popular challenge style that will likely send you all over the map searching for those puzzle pieces. We just hope they're extra large or spotting them could be tricky, even if you know to look specifically in basements. As soon as the challenge officially hits we'll have a detailed map showing you exactly where to find those seven puzzle pieces.
Consume Apples or Mushrooms (20)
This challenge is pretty straightforward, and you can find mushrooms and apples all over the map. However, with just a week left to go in Season 5, it may be difficult to find 20. So you'll really have to hustle.
Eliminate Opponents (10)
Again, this on is pretty straightforward, but with just a week remaining you'll have to really focus on racking up those eliminations in time.
Fortnite Week 10 Battle Pass Challenges
Search Chests in Salty Springs (7)
This is pretty standard stuff. When you have a chance, land in Salty Springs and scour for chests. It may take two or three tries, depending on which way the storm moves, but if you need help VG247 has you covered with a map of all possible chest locations in the area.
Deal damage to opponents (5000)
Again, this one may be difficult since you only have a week to do it. But if you really focus you should be able to rack up that damage in time.
Search between a covered bridge, waterfall, and the 9th green
You'll want to head to the North side of the map by Lazy Links. The exact spot is roughly northeast of that location, but we won't know for sure until the challenge goes live on Thursday morning.
Stage 1: Eliminate an opponent in Pleasant Park
Fortnite introduced these multistep challenges earlier in Season 5. Basically, finish the first task (eliminate someone in Pleasant Park) and in your next game you'll get you'll get the next step in the mission (probably just killing someone in another location). Finish them all before the end of the season to get your final Battle Stars.
Related video: 'Squad Up' is the Inverse talk show that takes place entirely inside 'Fortnite'. Follow us on Twitch!