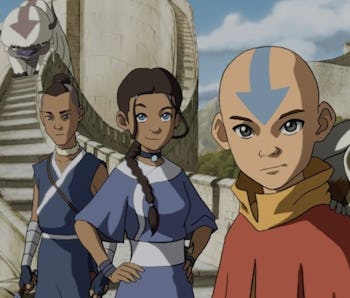 Entertainment
'Avatar: Last Airbender' on Netflix Adds Another Creative From the Cartoon
This live-action series is shaping up to be something really special
Nickelodeon
Netflix surprised everyone this week with the news that an Avatar: The Last Airbender live-action series would be coming to the streaming service. Even better, the creators of the original cartoon, Michael DiMartino and Bryan Konietzko, are returning to oversee production directly — even if some other key creators aren't involved. Now, you can add another name to the list of Avatar originals who will be reunited by the The Last Airbender Netflix release date: the composer.
Jeremy Zuckerman, who wrote the music for both Avatar: The Last Airbender and the follow-up series Legend of Korra, confirmed the news on Twitter. In a post earlier this week, he wrote, "As it's in early development, there's nothing official yet but yes, I'll be doing the music for the @netflix #AvatarTheLastAirbender live action series."
When a fan chimed in to note that, "It seems like everyone is really dedicated to getting it right," Zuckerman responded to the not-so-subtle reference to the widely reviled M. Night Shyamalan movie adaptation, simply tweeting, "100."
Aside from Zuckerman, DiMartino, and Konietzko, it's unclear who else from the original Avatar: The Last Airbender team may return. However, Inverse previously confirmed that the cartoon's head writer Aaron Ehasz and lead director Giancarlo Volpe won't be involved in the live-action series. Instead, the two are focused on The Dragon Prince, a new animated series on Netflix that mixes Avatar-style storytelling and action with fantasy elements like elves, dragons, and magic.
With DiMartino and Konietzko at the wheel, and Zuckerman providing the music, expectations are still high for Netflix's The Last Airbender series, but it will be interesting to see how the new show differs without Ehasz and Volpe's influence.
One thing is for sure, DiMartino and Konietzko seem determined to correct the mistakes made in the Avatar live-action movie, for which they simply served as executive producers. In an official statement, they specifically called out the film's "whitewashed cast" and promised to "go even deeper into the characters, story, action, and world-building."
Here's the full statement:
"We're thrilled for the opportunity to helm this live-action adaptation of Avatar: The Last Airbender. We can't wait to realize Aang's world as cinematically as we always imagined it to be, and with a culturally appropriate, non-whitewashed cast.
"It's a once-in-a-lifetime chance to build upon everyone's great work on the original animated series and go even deeper into the characters, story, action, and world-building. Netflix is wholly dedicated to manifesting our vision for this retelling, and we're incredibly grateful to be partnering with them."
Production on the Avatar: The Last Airbender series is set to begin in 2019. So don't expect a release until at least 2020.