'Fortnite's Fall Skirmish Prize Money Pool Makes It the Biggest Tourney Yet
Now that's a LOT of V-Bucks.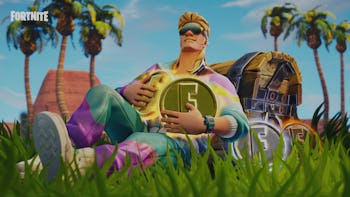 Epic Games
Fortnite: Battle Royale developer Epic Games released details about the upcoming Fall Skirmish series of competitive gaming, and the prize pot has substantially increased from the Summer Skirmish.
Epic Games announced Tuesday that the upcoming Fall Skirmish would begin soon, doling out a total of $10 million across six weeks of competition — that's compared to the Summer Skirmish, which included $8 million across eight weeks. So not only is the prize pool larger than last season, but each week's pot will be that much sweeter.
Much like with the Summer Skirmish, the autumnal event will likely also feature a rotating series of game modes with various celebrity Fortnite players and streamers each successive weekend. So the format of competition and the individual competitors changes each week.
The Summer Skirmish tournament ended on September 3 at PAX West 2018 with a $1.5 million tourney after running through most of July. The first event was a Duos tournament that suffered tons lag problems.
The second week utilized a scoring system across 10 Solo matches, and each week thereafter offered further variations.
Nobody actually knows just yet when the Fall Skirmish starts, but chances are it might kick off around Thursday, September 20, just a few days before the actual fall season begins. And, that's also coincidentally a few more days before Fortnite: Battle Royale's Season 6 is supposed to kick off.
All this news comes right around the same time that Epic Games rolled out a huge version 5.40 update for the game that added a Suppressed Assault Rifle to the game while vaulting the overpowered Drum Gun. There's no telling how this might change up the meta leading into the heated competition.
Between the Fall Skirmish and the upcoming new season of Fortnite: Battle Royale, September is going to be a big month for Epic Games.
Related video: 'Squad Up' is the Inverse talk show that takes place entirely inside 'Fortnite'. Follow us on Twitch!