'Fortnite' Summer Skirmish Adds Ninja for This Week's $1M Tournament
I'm sure our invite got lost in the mail.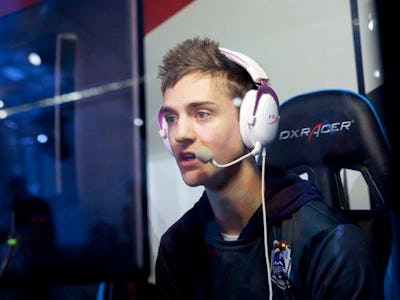 Ninja/Facebook
The first week of Fortnite's Summer Skirmish event didn't exactly go as planned, but developer Epic Games may have a secret weapon heading into week 2 of the tournament: Ninja. An official list of players reveals that the Fortnite streaming star will take part in Summer Skirmish Week 2, while also detailing exactly how much prize money competitors stand to win.
You can check out the full list of Summer Skirmish competitors on Epic's website, where it's broken down into invited players and "high performers." As for the prize money, Fortnite may be giving away $1 million, but the most any one player will actually win is $60,000 for coming in first place. Second wins $48,000, followed by $40,000 for third, and all the way down to $6,000 for whoever places 20th.
The rules for this week's Summer Skirmish are also different. First of all, players will compete on their own in Solo mode, rather than partnering up in duos like last week. Beyond that, they'll earn five points for each Victory Royale win, one point for each kill, and 10 points for scoring 20 or more eliminations in a single match. (Anyone who manages to get 20 kills per game also win an extra $10,000.)
If you want to watch along with the action, the entire tournament will be broadcast live on Twitch. It starts at 5 p.m. Eastern on Friday and again on Saturday at 1 p.m. Eastern. So check back later today and tomorrow to watch Ninja and some of the other best Fortnite players on Earth duke it out online.