What You Should Know About 'Fortnite' Summer Skirmish Rules and the $250,000 Prize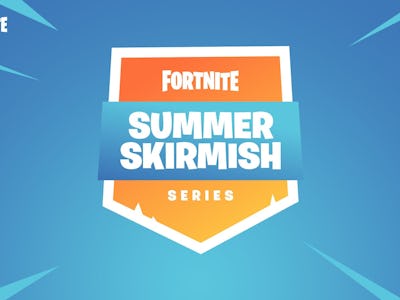 Epic
Epic Games started a new big-money esports competition for Fortnite on Saturday. Called the Summer Skirmish Series, the event has a whopping $8,000,000 prize pool, but there were some big issues with the tournament for players and viewers in just its first week.
The Fortnite Summer Skirmish Series is an 8-week series of competitions. The first week's event took place on Saturday with a $250,000 duos tournament. More than 100,000 people watched the event live on Twitch and YouTube, and many saw the problems as it happened live.
How Did the Tournament Work?
As this was a duos event, players invited to the event formed teams of two. The 50 teams would join a standard duos Fortnite match with one team coming out as the winner. To make the tournament fairer and more interesting, Epic came up with a format that either the tournament was over when a team won two matches or the competitors played a total of 10 matches. If they reached 10 matches, the teams would be placed depending on how many matches they won, where they placed in the matches, and how many kills they racked up during the event. Payouts for the team would be based on their rankings.
Who Participated?
There was a mix of players for Saturday's tournament. Some of the players were professional gamers, Twitch streamers, Fortnite community personalities, and those who did well at the Blitz Showdown event in June.
What Happened?
A few unforeseen issues came about on Saturday during the event. Players complained of lag affecting their game while viewers didn't care for the more tactical matches where teams would hunker down and not do anything for minutes as part of their strategy. After the first match, Epic disabled C4 charges as it was causing issues during the first match. The problems became so bad that the tournament ended after just four matches instead of going to 10 matches or one team winning twice.
Who Won?
With only four matches, Epic did come up with a ranking for all the teams. The top team was Kevin "Kevie1" Bed and his partner "NotVivid" who won the second of four matches in the tournament. They took the top prize of $50,000. The three other teams who won a match took the top four spots and then the rest of the duos were ranked accordingly.
The next Fortnite Summer Skirmish event will take place next Saturday, July 21. No details have been set on what kind of matches players will compete in, but there might be some changes to the tournament format as a result of the first week's debacle.
For those Fortnite players who dream of winning big money at an event like the Summer Skirmish, it could be worth paying for some coaching from a Fortnite pro.