'Fortnite' Power Chord Skin Returns to the Store, So It's Time to Rock Out
Get ready to rock out with some pink pair, maybe on top of the purple cube?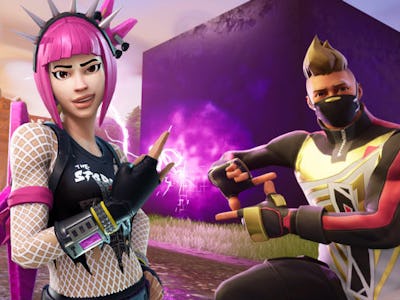 Epic Games
The latest Fortnite: Battle Royale outfit to make a return to the game's item shop is none other than Power Chord, the punk rocker whose favorite color is totally pink.
Fortnite's item shop rotates its wares on a daily basis, and on Sunday, September 9, Power Chord slid in as a featured Item for 2,000 V-Bucks. Also featured is the rest of her set, which includes the Stage Dive glider and the Anarchy Axe harvesting tool for 800 V-Bucks. Any would-be — or legitimate — rockers out there might also opt for the Rock Out emote, available as a daily item for yet another 800 V-Bucks. That's a whopping total of 3,500 V-Bucks (or around $35 USD) for the musically inclined players out there.
If players can't afford it? At least there's the Waterworks emote for only 200 V-Bucks.
Is $35 worth it to look this this in Fortnite?
Personally, I think the Googly glider is a much better value buy for 800 V-Bucks, if only because it looks totally ridiculous:
The featured items in Fortnite's item store typically update every 48 hours, with the daily items updating every 24 hours (obviously). In this case, all of these current items will disappear at 8 p.m. Eastern to make way for a new set.
Much like with the rare Red Knight outfit, whenever Epic Games re-releases a coveted outfit like Power Chord, it ultimately dilutes the value of that outfit. Sporting it then becomes much less "cool," and less of an indication that the player is some kind of Fortnite veteran.
The Fortnite: Battle Royale item shop will reset at 8 p.m. Eastern on September 10, 2018 and Power Chord will disappear forever — or until the next time Epic Games makes it a featured item.
Related video: 'Squad Up' is the Inverse talk show that takes place entirely inside 'Fortnite'. Follow us on Twitch!