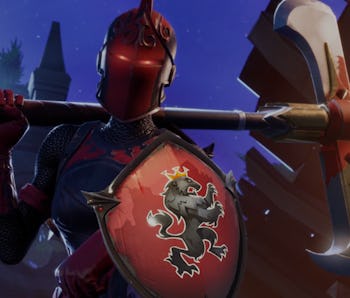 Gaming
'Fortnite' Quietly Fixes an Annoying Glitch in Its Latest Update
Epic Games
The fan-favorite Red Knight outfit in Fortnite: Battle Royale has returned to the game, but the beloved skin comes without any back bling. That means that if players want to dive from the Battle Bus as a badass female knight with red armor, they'll have to do so without a backpack … for now.
Developer Epic Games re-released the Red Knight outfit via the Item Shop on Thursday, and she hadn't been seen in the game since Season 2 ended in February. But within a half-hour of the outfit's release, Epic Games had to address the fact that the Red Knight comes without back bling. Normally, when fans purchase a legendary outfit, the purchase usually includes back bling as part of a package deal. In the case of the Red Knight, she originally came with the Red Shield on her back.
But upon release yesterday, the shield was inexplicably missing. So Epic Games tweeted the following apology:
Yet, as of Friday morning, the Red Shield does indeed appear in the Item Shop.
If, for some reason, players don't get the back bling as part of their purchase, then Epic Games does promise that anyone who purchases the outfit now will have access to the accompanying back bling "in the near future."
In fact, there are several instances of this issue already being fixed on Twitter:
So it looks like Epic Games fixed this problem very quickly — without officially announcing that the company had done so — which will make plenty of fans happy.
Now seems an interesting time for such a cosmetic skin to return to the game, especially considering the many time travel theories that have emerged after an in-game event triggered a bunch of rifts in Fortnite's space-time after a rocket launch.
Is it possible that the entire Fortnite: Battle Royale island could go back in time? Could that be the reason why more medieval knight-style outfits are returning?
We'll probably learn more when Season 5 kicks off on July 12 at 4 a.m. Eastern.