Red Knight 'Fortnite' Release Time: Here's When You Can Buy the Rare Skin
One of the rarest skins returns.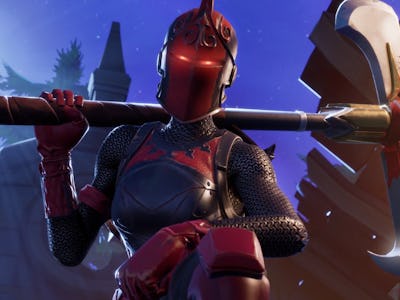 Epic
Skins and other in-game cosmetics in Fortnite are the bread-and-butter for developer Epic Games. Part of its strategy to keep people interested in buying content is making the skins available for only a short period of time and to avoid relisting certain skins for quite a while. One of these rare skins will come back to the Fortnite item shop Thursday night and players are getting hyped for it.
The Red Knight skin will go on sale Thursday according to a tweet from the official Fortnite Twitter account on Wednesday. It shows how much of an event this is for Epic to promote the sale of a new skin a whole day prior to its release, something it rarely does. The excitement for the skin announcement caused #RedKnight to be a top story on Twitter.
The Red Knight skin became first available back in Fortnite: Battle Royale Season 2. It was part of the Fort Knights set and was last seen in the game's Item Shop back on Feb. 20. As one of the rarest Fortnite skins, the Red Knight is regularly sold for quite a profit on eBay. An auction for an Epic account with the rare skin that ended on July 2 went for the price of $122.50. Keep in mind, this was a skin worth approximately $20 for a free-to-play game.
With the Red Knight skin being available once again, this means the pool of rare skins will shrink. Some of the most valuable outfits include the Skull Trooper, Ghoul Trooper, and Black Knight, with each fetching approximately $100 individually and much more if bundled together.
Those interested in purchasing the Red Knight skin should keep an eye out on the Fortnite Item Store Thursday evening. The store updates at 8 p.m. Eastern. Since it's a legendary skin, expect a price tag of 2,000 V-Bucks, or $20, for it.
Fortnite players who receive their skins by unlocking them with the Battle Pass can finish the Week 10 Challenges that went live on Thursday including the "Search between movie titles" challenge."