'Fortnite': How to Refund Skins and Other Items to Regain V-Bucks
Like most return policies, there are some rules to follow.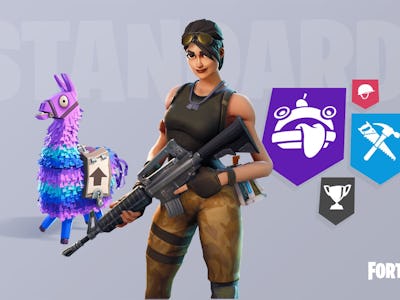 Twitter
Updates for Fortnite will usually include new modes, weapons, and a slew of adjustments to the game. Tuesday's 3.6 update added something big for players and it has nothing to do with the actual gameplay. It's a shame that it's already disabled.
The 3.6 Fortnite update has a new refund feature for players. Self-Service Cosmetic Returns will let gamers who may not be satisfied with their purchase submit a refund to get their V-Bucks back. There are, however, some stipulations.
To request a refund, visit the in-game Item Store and look at the purchase history. Scrolling through the purchases will show an option to return the item. A confirmation window will come up once a return is selected, and that's it. Or at least that would be it except the features option is currently not available. Epic Games tweeted a few hours after the update went live that the refund feature has been disabled due to unspecified issues.
Players who want to return an item must have first purchased the items within the past 30 days. What can be returned are emotes, gliders, harvesting tools, Back Bling, and outfits. What can't be refunded are Battle Pass, Battle Pass Tiers, Starter Packs, Founder's Pack, Founder's Pack Upgrades, Loot Llamas, and event or weekly items. Players will only receive V-Bucks for each return. Only three returns are allowed per account.
Epic has yet to announce when the refund option would return. Some Reddit users on the Fortnite Battle Royale subreddit suggested that the feature was disabled due to players abusing it in order to gain Battle Points.
Aside from the refund feature, the 3.6 update for Fortnite did include a new Clinger sticky grenade. There were also multiple changes to in-game weapons and items. Week 10 Challenges will start on April 26, right before the end of Season 3 on April 30.