There's More to Yuri in 'Marvel's Spider-Man' Than You Might Know
The acclaimed 'Spider-Man' game on PS4 has a secret superhero hiding in plain sight.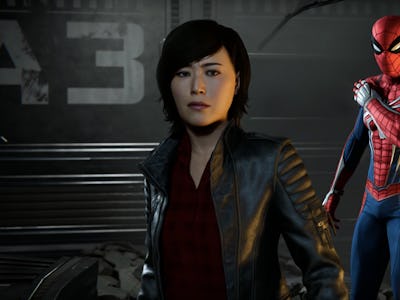 YouTube.com/Insomniac Games
Throughout your time playing Insomniac Games' insanely good Marvel's Spider-Man for the PlayStation 4, you'll get the occasional assist from hard-boiled NYPD Captain Yuriko "Yuri" Watanabe.
In the game, Yuri doesn't have time for "Spider-Cop" nonsense, but she still comes in and out during gameplay and cutscenes in a fashion reminiscent of Barbara Gordon and Commission Gordon in the Batman: Arkham series.
However, if you take a dive into the comics, you'll find that there's more to Yuri than just being Spidey's "person in the chair."
In fact, the game has a secret superhero hiding in plain sight.
Minor spoilers for Marvel's Spider-Man ahead.
In Marvel's Spider-Man, the web-slinger has a working relationship with Capt. Yuri Watanabe, a no-nonsense cop in the NYPD. Yuri doesn't know the identity of Spider-Man, nor does she care. What she cares about is justice and putting bad guys behind bars, so if that means working with some quippy acrobat in a Halloween costume, so be it.
But in the comic books, Yuri's commitment to justice goes even further.
A few years after her debut in The Amazing Spider-Man #600 in 2009, Yuri donned the mask of "Wraith," an identity wielded by other individuals in the Marvel Universe (all of whom have no relation to Watanabe's version) in The Amazing Spider-Man #663 in 2011.
But in her pursuit of Mister Negative, Yuri concealed her identity using equipment from Mysterio and Chameleon, appearing as the "ghost" of Jean DeWolff even when she was unmasked.
As Wraith, Yuri teamed up with Spider-Man several times, most recently in the 2015 arc Spiral by comic book legend Gerry Conway. It was in the finale of Spiral where Yuri vanished, leaving the Wraith identity behind (but took her mask as a souvenir).
While her powers have never been properly established, Yuri's Wraith has "bicep bands" that allow her to swing like Spider-Man and ensnare enemies. It's a complicated power set, and practically impressive that Yuri, untrained as a fighting vigilante, never tripped herself up.
Sadly, Insomniac's Spider-Man doesn't establish Yuri into a superhero who will suit up as Wraith, at least not yet. (And any chance for a woman of color superhero in a triple-A game will always be a welcome one!)
Perhaps there's a future for Yuri in downloadable content, or in future sequels. With a new shared universe birthed by Insomniac, who knows what awaits in the future for Marvel gamers.
Marvel's Spider-Man is available now on the PlayStation 4.