Watch Us Take a Tour of New York as 'Spider-Man' for PS4
We're hitting all the major hotspots in NYC and the MCU.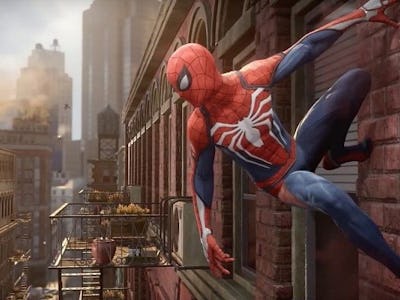 Sony/Insomniac
We were lucky enough to get our hands on an early copy of Spider-Man for PS4, and as the saying goes, "With great power comes great responsibility." So in case you're not able to grab a copy of the game on launch day, we'll be streaming live from Inverse HQ over Twitch starting at 8 a.m. Eastern on Thursday morning, September 6.
To celebrate this amazing new game, we'll be exploring the open-world version of New York, which features plenty of recognizable landmarks from both the actual city and the Marvel Cinematic Universe. We'll also be recreating a few classic moments from Spider-Man history, and we may even run into a few familiar faces.
In case that isn't enough, you can tune in early for a look at some of the classic Spider-Man games from the past, including the original PS1 title and the iconic Spider-Man 2 for PS2. Plus, we'll be talking about our favorite Spidey experience and sharing some tips and tricks for mastering the new video game.
Spider-Man takes place almost a decade after Peter Parker first becomes the web-slinging hero, meaning you're dealing with a more mature and confident character. There's no origin story to slog through and no radioactive spider bite. Instead, we'll just straight into the action and show you everything this game has to offer, from mind-blowing graphics to fine-tuned combat to lots and lots of web-slinging.
To watch us play live, check out the Inverse Twitch channel and follow us now so you don't miss a second of the action. We'll also embed the video right here tomorrow morning so you can follow along from the site.
Join us live Thursday, September 6 starting just before 8 a.m. Eastern.