Hysterical Tumblr Remakes 'Castlevania' Into 'What We Do in the Shadows'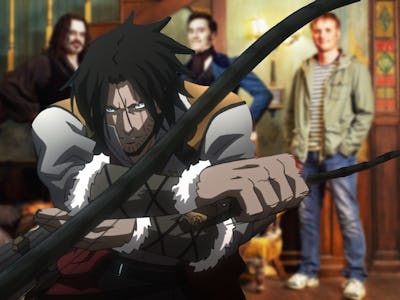 Netflix, Paramount Pictures
We tend to avoid talking about novelty Tumblr blogs (except that time we dove into the adult fandom for Disney's Cars), but when something as perfect as "What We Do in Wallachia" exists, we can't help ourselves.
On Wednesday, a Twitter user with the handle @nobledemonsxo went viral (18K likes, 7.5k retweets) with a tweet linking to a new Tumblr blog that puts quotes from Taika Waititi's unbelievably funny vampire mockumentary What We Do in the Shadows over stills of the mega-grim Netflix anime Castlevania.
"I found a tumblr that puts What we do in the Shadows quotes on Castlevania caps, and I'm living my best life," @nobledemonsxo wrote.
With Season 2 of Castlevania fast approaching, "What We Do in Wallachia" is the perfect sort of internet humor to pregame with.
You may be familiar with Netflix's Castlevania. Produced by Adi Shankar, the same producer of movies like The Grey (2011), Dredd (2012), and the ultra dark POWER/RANGERS fan film from 2015, the series is a dark anime based off the gothic video game series published by Konami, in which gamers take control of members of the Belmont family who must do battle against Dracula.
What We Do in the Shadows, on the other hand, is anything but grim.
Released in 2014, a few years before Waititi directed the 2017 smash hit Thor: Ragnarok, What We Do in the Shadows is a mockumentary that follows a close-knit group of vampires living in New Zealand whose undead lives are turned upside down when a "victim" is turned into one of them. (For a taste of the film, watch the first six minutes.)
While the quotes in What We Do in the Shadows are very specific to the characters and aren't as quotable outside of context (not like, say, Super Troopers), "What We Do in Wallachia" is still genius for contrasting the darkness of vampires with ridiculous jokes. Something tells me Taika Waititi would be proud.
There isn't a lot of content on the Tumblr just yet, but the creator said in an "Ask" thread they're waiting for Season 2 of Castlevania before adding more.
Castlevania Season 2 will premiere on Netflix on October 26.