How 'Castlevania' Producer Adi Shankar Broke Every Rule — and Won
'You can't create when you're living in fear, because what you create is just bullshit.'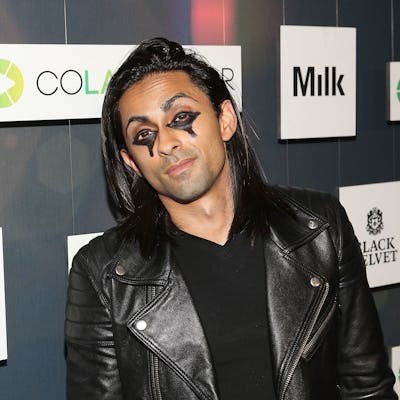 Adi Shankar doesn't do small talk. He has a tendency to go silent sometimes, but you soon realize that the sudden hush isn't an act of rudeness or something he's likely even conscious of doing. It's more like the 32-year-old showrunner of Netflix's Castlevania anime series is quietly organizing his thoughts, coiling them into long, complete sentences, and right before it gets awkward, unraveling rapid-fire analysis, opinions, metaphors, and stories that often connect disparate topics and ideas.
A quick example: Standing in line at a Starbucks outside the show floor at San Diego Comic-Con, he describes one of his favorite anime characters, Captain Harlock. He's "Cap'n Crunch meets Snake Plissken," the character Kurt Russell played in John Carpenter's Escape movies. That unlikely description then leads into one of his favorite topics: corporate power.
"Cap'n Crunch is hocking an ideology, selling an unhealthy lifestyle," Shankar says. "He's a mascot who's there to delude children into believing that what they're consuming is somehow good."
Then he nods over to the massive convention center floor, where he suggests the same thing is happening. "It's like the Hunger Games for these corporate mascots," says Shankar, who has been producing major Hollywood movies since his early 20s. "Who will be more popular with kids in 10 years? Will it be Wolverine or Batman, or will it be Spider-Man? These corporations are fighting, but the battle they're trying to win is the relevance of their intellectual property in the zeitgeist."
And so I ask him if it's then strange for him to be working with Netflix, the global entertainment and tech behemoth, and Konami, a sizable video game company in its own right. Aren't the characters in his animated series, Castlevania, corporate mascots? Shankar doesn't think so, because they're telling a story, not selling products like unhealthy cereal or a massive line of toys and merchandise. But he is working with corporations, that much he'll admit, and he wouldn't have any problem working with more of them … or pissing them off and moving on to another creative endeavor.
As is true of most creative endeavors for profit, no one has to love the rules of the game they play. And Shankar has good reason for wanting to play in this world, his own origin story rife with twists and turns, worthy of its own Hollywood production. The log line might go something like this: The unlikely story of how a kid from India wound up in Hollywood, produced number one hit movies like The Grey and cult favorites such as Dredd, then rebelled against the established system — all before his 30th birthday.
Adi Shankar was born in Calcutta, but his family almost immediately moved to Madras, a city originally and currently known as Chennai. His father's job sent them ping-ponging around India and then off to Hong Kong by the time he was five and a half. The nomad lifestyle left its mark — he became fluent in several languages and learned to mimic accents — but it was the two years that he spent in Los Angeles, during his elementary school days, that were the most formative.
"Don't get me wrong, there are dope-ass Indian movies. We have our own film ecosystem there," he says. "But it's a type of story that doesn't connect with me in the same way American and Japanese pop culture connected with me. It was sci-fi, fantasy, social satire. All the stuff I'd get in trouble for saying at school, I'd seen in movies."
That exposure to American pop culture was burned into his memory, and when his family went back to Hong Kong, it inspired his prolific imagination (which in turn got him into trouble). By the time Shankar was 16, he knew that he wanted to work on reshaping the shows and movies over which he had obsessed and make new ones. That meant going to America to continue his education, and when his dad lost his job and money got tight, he took the one opportunity available to him at that time.
An elite boarding school in Rhode Island was looking to add more diversity to its generally WASPy student body, and after some hesitation, Shankar accepted the terms of its scholarship: He could spend his last two years of high school in America, and the school could claim to be inclusive. But the school, he says, "was full of pink pants-wearing, Donald Trump-looking motherfuckers," who were less than welcoming to an Indian kid from Asia who loved anime and X-Men.
And then just days after he got to Rhode Island, terrorists hijacked airplanes and crashed them into the Twin Towers, the Pentagon, and a field in Pennsylvania. The 9/11 attacks shook the nation and created for Shankar a sense of extreme alienation. Eventually, he faced accusations that his ultra-energetic demeanor and rapid-fire skepticism were fueled by more than youthful excitement.
"They'd say, 'He talks really fast and has vivid ideas that are kind of left-of-center sometimes,'" Shankar remembers. "I had a pretty traumatic incident when I was 17 or 18. They were basically like, 'You're on drugs! And we know you're on drugs because you have these ideas that are anti-establishment.'"
Shankar still carries those admonishments and accusations from teachers and administrators with him. How could he not when he was coming of age in a time and place where the very people meant to be protecting him viewed him as a threat?
He talks a mile a minute when he's speaking to you in natural conversation, machine-gunning out ideas and theories about pop culture and our dystopian future, but he changes when he's under a spotlight and on camera. Soon after we meet up, we have to rush across the street and through a thick sea of cosplayers to the Hard Rock Hotel, where he is due to appear on IGN's live-streaming broadcast.
They've got a huge makeshift studio, part of a well-oiled machine built to extract exclusives from people like Shankar, who are there to convince the IGN audience to give their show/movie/game a try.
This version of Adi Shankar, behind a desk and on camera, is more measured, speaking slowly and deliberately. He takes time to think after each question and dodges attempts to extract future Castlevania spoilers. Ultimately, he takes control of the interview, and instead of plot teases, he explains how the best villains are heroes in their own mind. Then, with some forward momentum and confidence, Shankar toys with questions about Assassin's Creed, the next classic video game that he will be turning into a TV series.
When the interview ends and he's freed of the lav mic, Shankar asks me how he did, looking more for reassurance rather than ego-stroking. This is one of his more compelling contradictions: Shankar sells his projects — and himself — with bravado but isn't always sure it connects, especially when he's asked for sound bites; he will spend the next 15 minutes expounding on the ouroboros that is the public and private identity of Vin Diesel, but presenting himself to the public still sometimes feels like a challenge.
Which is surprising, considering that this is a guy who started up his own mini advertising firm as a freshman at Northwestern — an operation that found so much success working with local businesses that he was asked to teach advertising classes during his senior year.
Northwestern is an important point in this origin story. The Chicago-area school is where he first felt accepted, where he was first told it was OK to be weird and talk fast and stand out. Shankar's entire career can be traced back to lessons learned at the university, both in sales and being very different from everyone else around him.
"I met Adi at a very buttoned up Hollywood party," James Van Der Beek, one of Shankar's close friends and collaborators, tells Inverse. "There was this kid over by the bar wearing face paint or eye makeup. I was like, I want to talk to that guy. So I did, and we just became fast friends. He's just different. He had his own take on things, and he was very specific."
Shankar was audacious during those early days out in L.A. He didn't know anyone, so he memorized the entire Black List, an annual compendium of the best new and as-yet-unproduced screenplays. He hit up Hollywood parties, where he mingled with the rich, famous, and very buttoned up. And he wore black face paint and eye makeup at all times, like a spooky punk member of the KISS Army sneaking into the Chateau Marmont.
That was his trademark look for a long time, which makes his route to success even more unusual. Shankar didn't start out by grabbing attention with his own weird indie films, or even by breaking rules with copyright-busting shorts — that came later. Instead, he got his first credit by luring the future Oscar-winner Colin Firth to join Main Street, a movie about the denizens of a small southern town written by the Pulitzer Prize-winning playwright Horton Foote.
"Adi realized that if you haven't made a movie before and you call CAA about a big actor, nobody gives you the time of day," Van Der Beek explains, telling a story that Shankar himself was shy to share. "He realized very early on that content is king, so he got the rights and realized the British agents were much more polite, so if he called with content that had merit, they would give him the time of day."
After he got the rights from Foote and Firth came aboard, Shankar convinced Megan Ellison, the daughter of Oracle's Larry Ellison and the future founder of the prestige indie film label Annapurna, to finance the movie. "The key is, she was not my friend," he remembers. "We did not grow up together, we were not homies, we weren't tweeting each other, we weren't texting each other. This just happened. And it was nuts."
Main Street was not a success, but it opened a lot of doors, and soon enough, Shankar was executive producing hits like The Grey and instant cult classics such as Dredd. Movies with Brad Pitt (Killing Them Softly), Mark Wahlberg (Broken City and Lone Survivor) and Ryan Reynolds (The Voices) soon followed. Some were hits, some were misses, but all made some kind of splash.
Few producers had assembled that kind of resume in their early 20s, and Shankar seemed to have been on the fast track to traditional success. But instead of staying on that course, with the attendant development deals and financing slates that were to likely come, Shankar veered left, going rogue to chart his own course through Hollywood, guided by lessons he learned two decades earlier during that first stint in L.A.
"When it started for me, straight up, it was about how I never saw myself on screen, ever," Shankar says. "As a kid, you look at the X-Men. I can't be one of these people. I never saw myself represented, and it was super fucked up."
Shankar is a superfan, but not in the same way most people in San Diego this weekend are superfans. After his Castlevania panel, we walk through the mostly empty hallways of the convention center, which has just closed for the evening. The only people left are the fans with special passes permitting them to camp out inside, so they'll get a seat for the next day's Hall H panels; the procession of hardcore fans extends outside the building and snakes all around the promenade, which now looks like a refugee camp for survivors of the devastating Party City civil war. Shankar can only marvel at what he sees.
"I hate waiting in line," he says. "I can't have a passive relationship with anything. I have to engage with it. That's why the Bootleg Universe exists. I can't just say, 'OK I like this, cool.' I want to think about it and deconstruct it."
The "Bootleg Universe" is how most fans first got to know Shankar. It began in 2012, when he released a short, ultra-violent film about the Marvel anti-hero the Punisher. The 10-minute short, Punisher: Dirty Laundry, starred Thomas Jane, the actor who played the character in a 2004 film produced by the comic book publisher and Lionsgate. Shankar's short, however, was entirely unauthorized by any of the rights holders — he just made it with a bunch of buddies, debuted it at Comic-Con, stuck it online, and let fans freak out about how it was much more true to the character than anything put out by official channels.
The pattern continued, with another unauthorized Marvel short in 2013 about the Spider-Man villain Venom. Then came an animated "reinterpretation" of Dredd, which Shankar made in part because a sequel to his live-action film hadn't been green lit; he didn't have the rights to make an animated version of the character, but that didn't stop him from making his version of the story.
Then came perhaps his most infamous bootleg, Power/Rangers.
"I was having dinner with Adi, and I think his father and I asked him what he was up to, and he was like, 'Dude, I'm going to make a super dark, hard R re-imagining of the Mighty Morphin Power Rangers," Van Der Beek remembers, laughing. "I think my exact response was, 'That's the stupidest thing I've ever heard, I'm in.'"
The actor says Shankar offered him carte blanche on rewriting the script. Van Der Beek turned in his own draft, then starred alongside Katee Sackhoff in director Joseph Kahn's somber film about the PTSD suffered by teenage superheroes. And for Shankar, it represented far more than a chance to play in a sandbox he enjoyed as a kid.
"I want to take a complicated idea and explore it and present the question to the public, using these very accessible characters or universes," he explains. "You say 'Hey, would you want to watch a deconstruction of the impact of PTSD on being a child soldier?' Most people are like, 'No, I don't want to see that movie.' But you throw in the context of Power Rangers, people are like, 'Yo, it's dope!'"
And thanks to a general love for nostalgia and gritty action, Power/Rangers was an instant hit. … Until the Power Rangers' famously protective overseer Haim Saban had it pulled from YouTube. A few days later, it was up with a disclaimer, and is still much more beloved by fans than the official Power Rangers reboot that was released this winter (Shankar, for his part, had kind words for that film). Shankar also made a James Bond bootleg in 2015, which traveled the same pulled for copyright, reposted with a disclaimer trail that Power/Rangers blazed.
He's planning to make other Bootlegs, too, including perhaps sequels to the first batch; later in the evening, he mentions that he almost produced a bootleg short film continuation of the revolutionary video game Shenmue. The revelation is a rare one for him, dropped during a conversation with a team of documentary filmmakers from Canada. They're part of a quiet but fervent community known as "fanmues," and Shankar seems way more comfortable talking in the hallway with them than with a fishing host in a big expensive studio.
It'd be logical if these kinds of flagrant violations of rules and copyrights got someone blackballed from an increasingly corporate, international industry; intellectual property is the currency of the day in the business, and Shankar deliberately and repeatedly acted like a pirate, using major corporations' IP without permission. And yet, here he is, in front of a crowded ballroom of fans, talking about his Netflix adaptation of Castlevania, which the global behemoth streaming platform just gave a second season while also doubling the episode count. He's also making a full-length movie with Kahn called Bodied, this one about battle rap — and he's brought Eminem, one of his heroes, on board to produce.
"Not to get too high minded about it, but history is made by the people who seem crazy at first," Van Der Beek, who calls Shankar one of his best friends in the business, says. "Now Adi is in this transition phase where he used to be the crazy guy on the outskirts, with only a few people listening to him. Now, because he's gotten stuff made without really going through the system and getting the edges worked out, now all of a sudden the business has sort of moved towards him."
Shankar doesn't wear the makeup much these days, and so while he's still wearing all black and fingerless gloves, he's harder to spot in a crowd, especially this one; this despite the fact that he's now more popular than ever. Cosplay used to be an act of rebellion, he says. Now he feels as if the act has been co-opted by those with less pure motives, a theory that actually helps explain his second rise to prominence.
An amateur comic creator picks the makeup-less Shankar out ahead of the panel and thanks him for reading his self-published comic and sending feedback. Shankar posts often on Facebook, and is reachable through his official page. He knows what fans want, and during the Q&A session at the panel fan after fan prefaces their questions and comments by saying that Castlevania was the first video game adaptation that was both good and loyal to the source material. (Then each and every fan fishes for Season 2 spoilers, which Shankar declines to give away each and every time.)
People crowd around him after the panel, and he gets a few questions about Assassin's Creed. Like Castlevania, he'll be adapting the video game into an anime, and they're hoping he has a better grip on the story than the big budget box version that starred Michael Fassbender and flopped hard at the box office last winter.
And, again, he declines to divulge any details or secrets. And it's not because he is afraid of upsetting his new corporate partners — he's actually more willing to do things like make Bootleg Universe movies (there are more on the way) now that he's hacked his way back into the system. His next live-action TV show is called Adi Shankar's Gods and Secrets, a move that might seem like it could make or break his name recognition with the public. He's willing to take that risk, because that's how he got here in the first place, and it's really all he knows.
"I don't give a fuck — I've never given a fuck about any of this, straight up," he says, now defiant as he walks through the convention center. "You can't create when you're living in fear, because what you create is just bullshit. You're pandering. I'm not emotionally attached to any of this. You can't take this away from me. I don't mean I'm unstoppable, I mean that you can't take it away because I'm always going to create stuff. It may not be a movie. Cool, then it'll be a TV series. If not, I'll do a YouTube thing. I'll write a comic book or a book, or I'll paint or go do photography or start a band and start singing. Or I'll start painting on walls. I'm always going to create."