'Castlevania' Boss Adi Shankar Is Making an 'Assassin's Creed' Anime
The showrunner is producing a series based on the hit video game series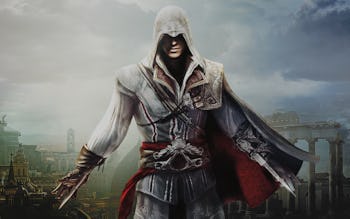 Just days before the release of his animated Castlevania series, writer/producer Adi Shankar has announced that he's signed on to adapt another beloved video game franchise: Assassin's Creed.
Shankar broke the news in a post to his Facebook page late Tuesday night, noting that he was asked by the game's publisher to create an original series based on the decade-old action-adventure game series. Castlevania, on which Shankar serves as showrunner, is also an anime series, and will be released by Netflix on Friday.
"I played the first edition of Assassin's Creed the year I moved to Los Angeles to pursue my dream," Shankar wrote. "At that moment I knew absolutely no one in the industry and could never have imagined that one day Ubisoft would ask me to take the world of Assassin's Creed and create an original anime story set in it as a series. If anyone tells you not to follow your passion in life they are wrong."
Just 32-years-old, Shankar has executive produced hit films such as The Grey and Lone Survivor, as well as fan-favorites like Dredd. He also made a splash by producing a series of unauthorized fan films about properties such as Punisher and Power Rangers. Known collectively as the "Bootleg Universe," the short films went viral and marked Shankar as a filmmaker who could connect with hardcore fans of Hollywood's most valuable franchises.
Assassin's Creed is a series of games about two secret societies — Assassins and Knights Templar — that have battled for the fate of humanity for most of history. Protagonist Desmond Miles "travels" via high-tech simulation to different points in history, including the Renaissance and Crusades, in the endless fight to preserve free will. The games largely focus on stealth combat and covert missions.
The anime series represents a major pivot for Ubisoft. A big screen, live-action adaptation of Assassin's Creed starring Michael Fassbender flopped at the box office winter, making just $54 million in the US. With nearly 100 million games sold over the last decade, though, it's clear there is a potentially large audience for an Assassin's Creed series.
The announcement should not come as a total surprise, as Ubisoft CEO Yves Guillemot said back in November that his company was in talks with Netflix to do a TV series.
Castlevania is available on Netflix starting July 7th.