Mercedes-Benz Launches the EQC, a Fully Electric SUV to Compete With Tesla
The EQC boasts a 200 mile range. 
by James Dennin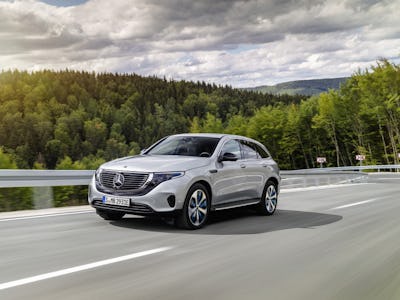 Mercedes-Benz 
Mercedes-Benz was not known as a leader in the electric car space, emphasizing instead its fleet of hybrids and its progress toward developing more fully autonomous driving. But that could very well change with the EQC, a new fully electric SUV that the company launched on Tuesday with plans to hit showrooms in the United States by 2020.
It's the first vehicle that the European automotive giant has launched under its EQ brand (the "EQ" per a press release, stands for "electric intelligence"). It was formally introduced today at a premier event in Stockholm.
The new EQ is expected to have an estimated range of roughly 200 miles, according to the company, powered by a lithium ion battery with a capacity of 80 kWh. The car will be able to accelerate from zero to 60 mph in under five seconds, though these specs are just early estimates.
Will the EQ Be Able to Compete With the Model X?
At first glance, it seems like the EQ is meant to compete with the Tesla Model X, Tesla's SUV which boasts a nearly 300 mile range and can seat up to seven people. In terms of towing capacity in particular, the Model X has turned heads, and it retails for more than $70,000 after accounting for the savings and tax credits. Jaguar's I-Pace sells for $69,500, meaning it's relatively safe to say that the EQ will also retail in the $70,000 range to be competitive.
Most of Tesla's competitors have focused on higher end makes: Porsche recently unveiled the Mission E Cross Turismo at the Geneva Motor Show. Audi has also featured prominently in the electric car race, debuting a prototype of its E-Tron in March. It's expected to have a 311 mile range.
These announcements show how the race to build the fully electric car is heating up, while also shedding light on how audacious Tesla's ambition to develop and begin shipping its mass market Tesla Model 3 by this year really was. The push to ramp up production has taken a toll on the company, particularly CEO Elon Musk, though the company has met the summer's production targets.
For its part, Mercedes-Benz executives told Bloomberg, it's going "all in" on electric vehicles, with plans to have at least 22 fully electric makes by the year 2022. Audi plans to have 20 electric vehicles and hybrids by the year 2025.