Elon Musk Brushes Off Steve Bannon Insults as 'Best PR I've Had in a While'
"Can Steve Bannon please insult me some more?"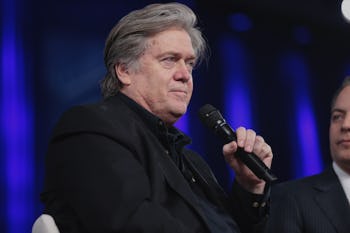 Flickr / Gage Skidmore
Elon Musk brushed off a stinging attack on Friday from Steve Bannon, the former White House strategist who described the Tesla CEO as a "man-child." Bannon criticized Musk for his handling of a plan to take the electric car firm private, as part of a wide-ranging interview where he also slammed the executives of other major technology firms.
"Tesla is out of control," Bannon told CNN on Friday. "The board of directors have no control over the CEO. The CEO essentially lies. He flat out lied about securing funding…he then has an emotional breakdown with the New York Times. This is the level of maturity you have with these people…they are all man-childs. How can they have this unlimited power. It's outrageous."
Musk seemed unfazed by Bannon's criticism:
Musk has faced criticism in recent weeks for his announcement earlier in the month to take Tesla off the stock exchange, declaring on Twitter that the funding was secured. It later transpired that Musk had left a meeting with Saudi Arabia's private investment fund that there was "no question" a deal could be struck, leading analysts with JPMorgan and others to question the handling of the process. Last week, Musk reversed course and announced he would no longer take the firm private, after speaking with investors about the issue.
In the same CNN interview, Bannon described Facebook, Twitter and Google as companies "run by sociopaths…These people are complete narcissists. These people ought to be controlled, they ought to be regulated." He later said that "these people are evil. There is no doubt about that."
Musk and Bannon were spotted together a number of times in the early days of the President Donald Trump administration. Musk accepted roles on Trump's advisory committees prior to his 2017 inauguration, and on January 6 of that year he was spotted at Trump Tower for a meeting with Bannon. The CEO was spotted chatting with Bannon again the following month. Bannon's media outlet Breitbart regularly criticized Tesla over the years, slamming the company on reliability and profitability, but it's unclear if Musk raised Breitbart's earlier headlines with Bannon during their meetings. Musk withdrew from the committees in July 2017 over Trump's decision to withdraw from the Paris Agreement. Bannon himself left the White House the following month.
While Musk has not enjoyed the best publicity in recent weeks, returning to an accusation against a British cave diver after abandoning his plan to take Tesla private, respondents to the CNN story gave little support to Bannon: