Elon Musk Highlights Tense Video of Tesla Model S Flying Through the Air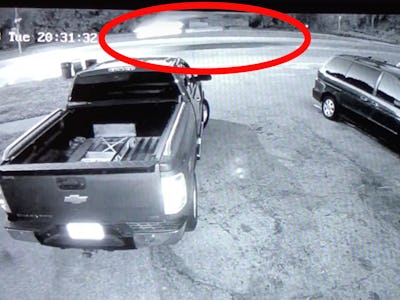 BarrieToday/YouTube
A Tesla Model S was caught on security camera this week flying through the air, after crossing over railway tracks at high speed before crashing and landing in a parking lot. The tense footage, which has already received over 500,000 views, elicited a single-character response from CEO Elon Musk on his Twitter page Thursday: "!"
The incident took place in Barrie, in the Canadian province of Ontario. Barrie Today reported that the four-door vehicle crossed the tracks at Little Avenue on Tuesday evening, taking to the air before crashing into the parking lot at Assikinack Public School. The driver and passenger were both treated for minor injuries, while the driver was also charged with dangerous driving.
The Model S has become a regular feature in viral car videos, but normally these feats are demonstrating legal driving within safe limits. A video from last January showed the P100D model achieving an acceleration from 0 to 60 in just 2.1 seconds ahead of the Electric GT Championship. Another showed the Autopilot semi-autonomous driving mode tackling a corner known as the "curve of death" with impressive skill. Another in September 2016 showed the P100D demolishing the Lamborghini Huracán in a drag race.
See more: Tesla Model S First Announced 10 Years Ago: A Look Back at Its Legacy
Thankfully, Tesla has designed its vehicles with high safety in mind. Musk explained in June 2017 that the S and X "have such a long crumple zone that's two to three times longer than a conventional automotive car that's got a big engine steel block in there." This is in part due to the "frunk," the front trunk that normally houses the engine. The two vehicles have been awarded five-star safety ratings from the National Highway Traffic Safety Administration. The as-yet-unrated Model 3, which entered production last year, has also demonstrated impressive resilience in on-road crashes.
Tesla is set to release four new vehicles in the coming years: a Semi truck that will hit roads next year, a Model Y sports utility vehicle that will launch next year, a second-generation Roadster that will launch in 2020, and a pickup truck with an as-yet unannounced launch schedule.
Hopefully with these four vehicles Tesla will be able to maintain its high safety records.