Tesla Model S First Announced 10 Years Ago: A Look Back at Its Legacy
It was an historic "bet the company" moment.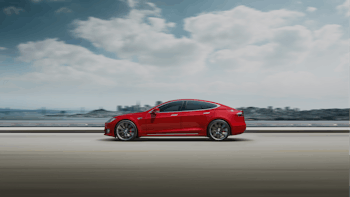 Tesla
On August 17, 2008, Tesla announced plans to produce a zero-emissions electric sedan in Silicon Valley. The accompanying press release confirmed a number of details for the first time: it would have a base price of around $60,000, a range of around 240 miles per charge, and it would be called the Model S.
Tesla was a very different company back then. Its first vehicle, the $108,000 two-seater Roadster, had set a record as the first mass production all-electric lithium-ion car when it entered production on March 17 of that year. Tesla had produced around 30 Roadsters by the August announcement, an average of around one car every five days, with a backlog of 1,200 orders for more vehicles. All Roadsters were assembled at the Group Lotus PLC factory in Hethel in the United Kingdom. Tesla's supercharger network was nonexistent, and Autopilot was something you found in airplanes.
The company is gargantuan today. Tesla now produces around 1,000 cars every single day. It has three car models in production, three more on the way, and it's on the verge of shipping an autonomous driving chip. In total, Tesla has produced over 360,000 cars, has a backlog of around 400,000 Model 3 orders, operates over 10,000 supercharging stations, and is worth over $50 billion.
In later years, CEO Elon Musk would refer to the release of the Model S as a "bet the company" moment.
Here's the story of how that bet has paid off (so far).
Before Elon Took the Wheel
It was make-or-break time for Tesla. The company was founded five years prior by Martin Eberhard and Marc Tarpenning, with a plan to ship the Roadster by 2006 and hit profitability by 2008. It turns out making cars is a lot harder than it seems. The Roadster's launch was a big milestone for the company, but it wasn't enough. Tesla wanted to bring the electric vehicle to the mass market.
The Model S was rumored for a while prior, under the codename "Whitestar." A January 2007 report claimed the four-door sedan would take on the BMW 5 Series, with a volume target of 10,000 to 20,000 units per year. It wasn't always going to be electric, though, as the company intended to also produce a range-extended vehicle that ran with gas. This would satisfy consumers worried about range.
"It is more than research. We intend to have it as part of the offering," then-CEO Ze'ev Drori said in an interview. "The Whitestar can be all-electric or it can be an REV."
This wouldn't be the only thing to change prior to the launch.
Designing Tesla's second car posed a big challenge, mostly because the firm wanted to move away from its relationship with Lotus and design its next car in-house. The Model S was ultimately designed by Franz von Holzhausen, a decision which would go on to pay huge dividends for the company.
Franz von Holzhausen: the Model S's Futurist Designer
von Holzhausen started his career in the nineties working on the New Beetle for Volkswagen, before moving to General Motors to design the Pontiac Solstice. He joined Mazda in 2005, overseeing design and production of the firm's North American vehicles, before taking up a position as lead designer for Tesla around the time of the car's announcement.
"Tesla is changing the paradigm," von Holzhausen said at the time of his hiring. "We're going to turn the world on its ear and create high demand through design. There is a new hunger in the air for automotive design and looking to where automobiles are going in the future. Tesla will capture this through good design and engineering."
von Holzhausen needed a team to bring his vision to life. He needed designers that understood his influences, his attachments to Bauhaus design, a team that could deliver a car for the future.
The end result, he told the Los Angeles Times in May, had to be "beautiful and alluring, like a moth attracted to a flame," with the result that "you're drawn to it although you don't know anything about it."
Bringing the Model S From Vision to Reality
Tesla announced plans to build a $250 million facility in Silicon Valley to produce the new car, employing around 1,000 workers on an 89-acre site. The plan to bring manufacturing to California struck a big chord with then-governor Arnold Schwarzenegger.
"Today's announcement is incredible news for California's economy and its environment," Schwarzenegger said at a press conference on June 30, 2008. "If California was a baseball team this would be like winning the first round draft pick and recruiting a player who is a perfect fit on our roster because Tesla Motors and its all-electric cars belong in California."
Behind the scenes, money was tight. Elon Musk, then chairman of the company, was pouring his personal money into the project. The company had brought the Roadster's production costs down to $95,000, but it still had a number of pre-orders at a discount price of $92,000. Tesla needed to push through and make the Roadster profitable if the Model S would see the light of day. Musk, with some help from his brother Kimbal, managed to raise $40 million to keep operations afloat and see the plan through to the end.
In March 2009, von Holzhausen had the prototype ready to go. It was the first time the public got to witness Tesla's fully self-designed car, and it was impressively cutting-edge. A giant 17-inch touchscreen, now a common feature of Teslas, perched in the center console. It got writers excited.
By this time, Musk had killed off the hybrid version of the vehicle. He'd also been promoted to CEO. Tesla was also starting to push through its financial woes, thanks to a $40 million deal to supply batteries for Smart cars.
Reviews Hit the Stands
When the Model S finally entered production in 2012 with a starting price of $58,570 — produced at a Fremont plant rather than one in San Jose — it stunned reviewers.
"Tesla might be a Silicon Valley start-up, but be in no doubt that it's a serious player in the electric car world," wrote WhatCar. "If you're an 'early adopter', the Model S is well worth a look."
"We are left mightily impressed," wrote Engadget. "For a car at this price point, the interior disappoints in a few areas, and some features are missing that we'd like to see in future releases, but all that fades away when you drive the thing. The Model S is a comfortable, silky-smooth rocket ship. It offers handling abilities that, given its size, are very good indeed. And, while its battery packs don't completely obviate range anxiety, it's about as good as you're going to get from a modern EV."
"As the 0-60 mph time of 4.4 seconds suggests, the Model S can go like a bat out of hell when you want it to," wrote Driving.co.uk. "We tested the more powerful 85 kWh version and regardless of whether it was from a standstill or overtaking slower cars on the motorway, it had the capacity to turn your stomach giddy like a fairground ride."
"Tesla deserves to succeed," wrote Automobile Magazine. "It has managed to blend the innovation of a Silicon Valley start-up, the execution of a world-class automaker, and, yes, the chutzpah of its visionary leader. The result is the Model S. It's not vaporware. It's our Automobile of the Year."
From the Model S to the Model 3
Though Tesla once again finds itself at something of a crossroads, it's fair to question whether the mercurial automaker will ever experience a moment so tense as the Model S launch again. From Musk's own admission, the challenge of moving from producing 600 cars each year to 20,000 required rethinking the whole business.
And with the $35,000 Model 3 out the door and reaching production rates in excess of 5,000 per week, Musk claims that this is the last time the company will expand itself so rapidly over such a short space of time.
By producing a mass market car in those kinds of numbers, Musk says that Tesla's unprofitable days are finally behind it.
"To the best of my judgment, I do not think we have any future bet-the-company situations," he recently told Bloomberg. "We will still need to work hard and be vigilant and not be complacent because it is very difficult just to survive as a car company. But it will not be the same level of strain as getting to volume production of Model 3."
The Model S may have been announced nearly a decade ago, but it blazed a trail for future technology that is still felt today.