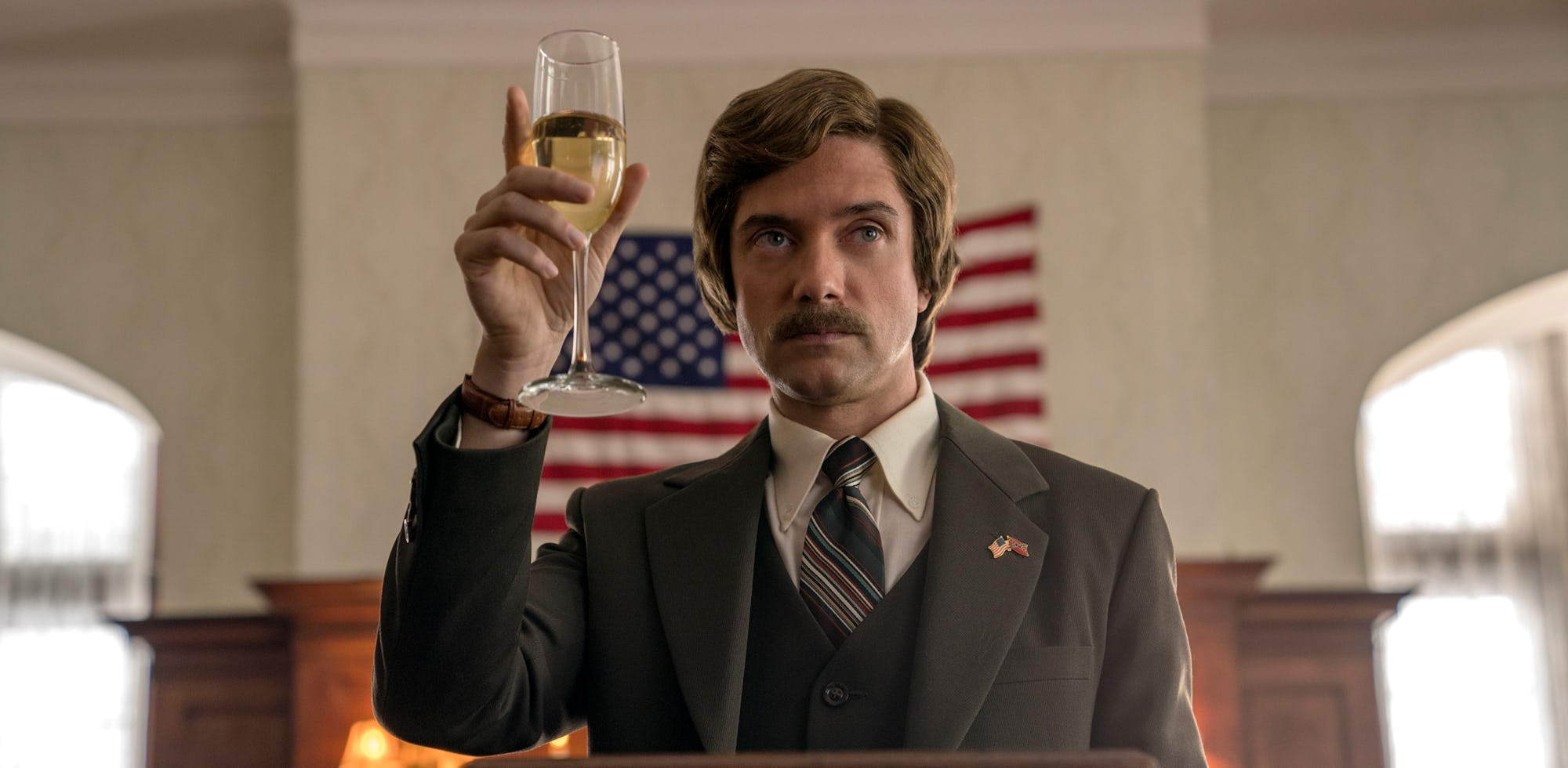 Entertainment
How Topher Grace Became a Racist for Spike Lee
The star of 'That '70s Show' opens up.
Focus Features
The night before shooting a scene for Spike Lee's BlacKkKlansman, Topher Grace sat alone in his home office away from his wife and newborn daughter. In this moment, Grace was trying, and failing, to say the N-word.
"I'm not someone who finds any reason to use that word. Any reason," Grace tells me in a midtown Manhattan hotel, a few blocks from Trump Tower. "I was alone, saying those lines, and I was swallowing the line."
It wasn't just physically normalizing slurs against black people that the 40-year-old actor and former sitcom star struggled with in his latest role. Throughout the making of BlacKkKlansman, Grace grew mentally and emotionally overwhelmed in his research to become David Duke, the Louisiana-based demagogue and former Grand Wizard of the Ku Klux Klan. "It was really intense," he remembers.
"It was so overwhelmingly negative; you're wearing the robe, people are chanting. And I was 'leading' that hate."
With the guidance of his director, and some video editing software, Grace survived the biggest challenge of his career. It was an ordeal that included reading a "thinly-veiled Mein Kampf," watching the birth of the alt-right on The Phil Donahue Show, and spending a straight week of wearing Klan robes.
Grace's big break happened precisely 20 years ago. He was a fresh-faced 20-year old on That '70s Show during the last stretch of the Clinton Era. But in the wake of playing David Duke in 2018, he has taken stock of what it means to live and raise a family when Donald Trump is president — not that he needed a reminder.
"A daughter is born in the Trump administration is a hard thing to say," he says. "Actor is a silly a job, paid to play pretend. I'm not method, it's rare I take anything home with me." But the arrival of his daughter, Mabel Jane, was "a weight, a real moment for you to take stock, not just of yourself but the world you're in."
(In an interview with The Daily Beast, Grace confirmed he dated Trump's daughter Ivanka over ten years ago. It didn't last, and he never met her father. After the split, Ivanka met husband Jared Kushner. Grace married his current wife, actress Ashley Hinshaw, in 2016.)
Born in New York City and raised in Darien, Connecticut, Grace was first the stoned, sweet Eric Forman on That '70s Show, before adding movie roles to his TV career. In 2000, he was in Steven Soderbergh's Oscar-winning Traffic (he played a freebasing teen); in 2007, he was in Sam Raimi's Spider-Man 3 (his role as Venom immortalized in fanboy circles); in 2010, he was in sci-fi flick Predators, in 2011, there was the coming-of age comedy Take Me Home Tonight.
Political dramas, comic book movies, and various TV comedies; it might be Grace's easy-going screen presence — or his disarming demeanor — but he has become a rare sort of on-screen villain.
In Spike Lee's most recent joint, which scored a whopping 96 percent on Rotten Tomatoes, Grace plays a different kind of evil: David Duke.
BlacKkKlansman tells the real-life story of Ron Stallworth, the first black detective in Colorado Springs who infiltrated his city's chapter of the white terrorist group. At one point during his operation, Duke personally mailed Stallworth his Klan membership card. In Lee's film, the two develop a "friendship" that gives Stallworth unprecedented access into the organization.
Believe it or not, the real Ron Stallworth was thrilled about the whole thing. "That was the excitement for me, working undercover," Stallworth revealed to Inverse recently. "You can't plan for anything, you have to be quick on your feet responding to situations that go astray."
While Lee's film "fabricated" some events for storytelling purposes, Stallworth was satisfied with Lee's portrayal of his life — including his actual first physical meeting with Duke when Stallworth was assigned to guard the Grand Wizard.
The incident seen in the film, in which Stallworth touches Duke for a picture and letting him know he'd arrest him for assaulting an officer, really happened.
"Spike did a masterful job," Stallworth says. "I'm pleased how he told my story, weaving the historical thread from the Confederacy to the reemergence of the Klan, to David Duke, up to Charlottesville and Donald Trump making his famous 'Good people on both sides' bullshit."
Although a period piece set in the '70s, Lee's film harnesses all its strength from 2018, an exhausting time when the President of the United States calls American Nazis "fine people."
"Donald Trump has failed to be the moral conscience of this nation," Stallworth says. "There were no good people on boths sides. There were only good people on one side. Heather Heyer got killed because of the idiocy of that march. Trump did not condemn it and shame on him. History will judge him."
"In the trailer I say, 'Make America First,'" Grace says. "I came out of the rehearsals and went, is Trump gonna see this? I know he watches TV. I'm sure there's a tweet in our future."
To become David Duke without losing his mind or soul, Grace previously shared with IndieWire his detox: re-editing Peter Jackson's bloated Hobbit trilogy into one neat, two-hour film, a task he equated to woodworking. But in his interview with Inverse, Grace reveals more about how he prepared for the day-to-day grind of playing the vile racist.
His biggest resource came in the form of Duke's 1998 book My Awakening, which he called a miserable read. "It's a thick book, and you just feel bad reading it," he says. "Processing the words feel terrible. Spike [Lee] calling you saying 'I want you to play this role,' was a total all-time high, and then all-time low, because you're just reading so much racist material."
Grace didn't need a waste of paper to see the villainy in Duke, but his research led him to what he believes was the moment the modern white nationalist was born. In 1978, Duke appeared on Phil Donahue's talk show, where he was introduced as "Grand Wizard of the Ku Klux Klan."
A hush falls over the studio audience. Finally, Donahue breaks: "Uh, you're such a nice looking boy," he tells Duke. The audience roars with laughter.
A nice looking boy. Fine people. Lee's flim bludgeons you with the throughline of David Duke on Donahue to today's alt-right, tiki-torch wielders outfitted in khakis and white polos. "As I was watching Donahue, he used the words 'Make America great again,'" Grace says.
"The script did a masterful job showing how America at the time thought about racists — like, redneck beer belly guy. Then David enters the film. Three-piece suits, well-educated, well-spoken. He put a different face on it. That's where I saw the most evil in him. He's really smart.
"What he does to the film is what David did to America," he adds.
"It was so overwhelmingly negative; you're wearing the robe, people are chanting. And I was 'leading' that hate."
Ultimately, Grace put his faith in his director to pull it off.
"Playing a role like this, you want it to be for the greatest black director of all time," Grace says. "Very few have the ability to make you feel this comfortable about something so incendiary. I felt safe with him. There were days he'd rub my back and say, 'You're gonna be very happy when it's all cut together.'"
Grace knew Lee was right when the film made its debut at Cannes in May 2018.
"When they had that ovation at Cannes, it went to like, John David Washington, Corey Hawkins, clapping, throwing flowers," he remembers. "It came to me, and the clapping went really low. I heard people booing." He laughs. "Nobody wants to hooray for the racist."
But Grace took it as an affirmation that the ugliness was worth it. "I was braced for that."
BlacKkKlansman is in theaters now.