'BLACKkKLANSMAN' Is a Gripping Spike Lee Thriller That Descends Into Horror
Spike Lee's adaptation of the 2014 memoir dramatizes one black detective's journey into the American hate group.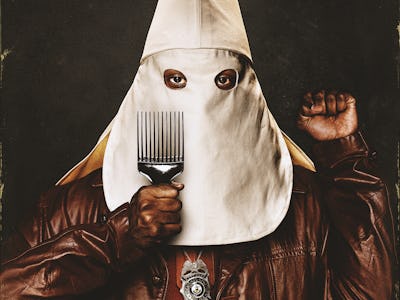 Focus Features
Spike Lee didn't set out to make BLACKkKLANSMAN a horror movie, and the film's marketing doesn't sell it as one either. But in the closing minutes of the legendary director's latest joint, the swagger and style of this late-'70s buddy cop film mercilessly fade into a 21st-century American nightmare.
Out in theaters on Friday, almost one year to the day after the deadly Charlottesville alt-right rally, BLACKkKLANSMAN adapts the 2014 memoir Black Klansman by Ron Stallworth (played here by John David Washington), the first black detective in the Colorado Springs Police Department. In 1979, Stallworth successfully infiltrated a Colorado chapter of the Ku Klux Klan, giving him an unprecedented look into modern American terrorism.
(In case you're wondering how that even worked, Stallworth made contact with the KKK over the phone but sent fellow detective Flip Zimmerman to face-to-face meetings in his place. Adam Driver, in a slight departure from Star Wars villain Kylo Ren, plays Zimmerman.)
Lee's film is a dramatization of Stallworth's already dramatic investigation, but it's also imbued with all the hallmarks of a proper Spike Lee Joint. That includes vivid weaponization of cinematic color, dolly shots, characters engaged in pop culture debate, and the brutal normality of everyday racism. Lee has truly never been better with his creative voice than in BLACKkKLANSMAN.
BLACKkKLANSMAN is also its own beast, bearing the structure of a buddy cop story and coated in the aesthetics of '70s blaxploitation. It's a fun movie that clowns on the Ku Klux Klan. You put up with their hate and white hoods because you know that Spike Lee's been behind the camera this whole time, gearing his audience up for the final punchline in the form of David Duke's (Topher Grace) shocked face upon realizing he's "befriended" one of those people.
Like any good social satire, BLACKkKLANSMAN packs an unexpected wallop of laughs and chuckles with the same air of suspense, intrigue, and danger of a Lethal Weapon. But it's all smokescreen. The creeping, unsubtle, reminders of Trump and #MAGA ring like the droning soundtrack of Suspiria, until by the end the horror is unavoidable.
"Blood and soil," you hear a crowd yell. A burning cross becomes burning tiki torches, and now it's 2017 in Charlottesville, Virginia. Lee recycles footage from the Unite the Right rally that resulted in the death of protestor Heather Heyer. Footage of the real David Duke features the white nationalist proudly proclaiming of "taking the country back."
Lee's film begins as a detective thriller and ends as a horror movie. But Hereditary it is not. Nor is it even a Get Out, where Jordan Peele filtered the atrocities against black people into a body-switching horror.
With BLACKkKLANSMAN, the horror is real. It happened and is happening. In one scene, which cross cuts with a Klan initiation, Harry Belafonte appears in a cameo and describes the 1916 lynching and burning of Jesse Washington, the inhumanity of which outdoes anything in Saw. Jigsaw didn't sell postcards of a black boy's burned body.
As I type this, Charlottesville police are gearing up for a second rally. The horror happened and is happening. You do not watch BLACKkKLANSMAN for escapism, because there is no escape from violent, virulent racism in America. We have the director of Do the Right Thing tapping into the sweltering, suffocating temperature of Donald Trump telling us so. America has been poisoned from within and has been for centuries. The call is coming from inside the house.
BLACKkKLANSMAN hits theaters on August 10.