Netflix Is Stealing Your September 14 Weekend With 'Bleach' and 'BoJack'
Also 'American Vandal' and the premiere of 'The Dragon Prince.'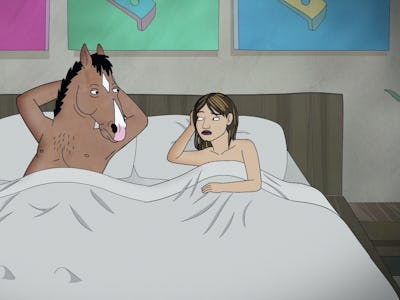 Netflix
Don't make any plans for this weekend. Netflix is hogging up all your free time with a slew of originals you're going to want to check out, plus two comedy classics from the 2000s that will ensure you're not leaving your couch any time soon.
For the weekend of September 14, Netflix is dropping new seasons of BoJack Horseman, American Vandal, and the debut of a new original animated series The Dragon Prince, from the makers of Avatar: The Last Airbender.
On top of those, the live-action film adaptation of the anime Bleach will also premiere on the streaming service. And for the finisher, on Sunday, September 16, Netflix will begin streaming both Role Models (2008) and Scott Pilgrim vs. The World (2010), which features pre-Marvel Cinematic Universe Chris Evans and Brie Larson in unbelievably hysterical roles.
Just, like, where to begin? Let's start with American Vandal.
American Vandal Season 2
Last year, we asked: Who drew the dicks? This time we ask: Who pooped?
The must-see mockumentary comedy of 2017 that actually hooked you in with a compelling mystery returns. And in Season 2, Peter and Sam are once again documenting a new case in their high school that involves — and we're not kidding — a mystery of feces.
BoJack Horseman Season 5
Meanwhile, the new season of BoJack Horseman will follow the beleaguered former sitcom star in a new detective series, Philbert, but BoJack's old ways threaten to derail his comeback. In an interesting turn of events, showrunner Raphael Bob-Waksberg has been speaking publicly to the press about the show's white-washing of its Vietnamese-American character, Diane Nguyen (voiced by Alison Brie) as the character visits Vietnam this season.
The Dragon Prince Season 1
From the writers of Avatar: The Last Airbender, The Dragon Prince is a new original CGI animated series set in a fantasy land where two human princes team up with an elven assassin sent to kill them in order to bring peace to their warring worlds. Check out our review of The Dragon Prince here.
Bleach (2018)
Based on the juggernaut anime/manga franchise and directed by Shinsuke Sato, Bleach stars Sota Fukushi (Kamen Rider Fourze) as Ichigo Kurosaki, a teenager who becomes a "Soul Reaper" and must defend his hometown against monstrous spirits. Unlike Death Note, which was adapted into an American film with American actors, Bleach is a Japanese production acquired by Netflix for western distribution.
Role Models (2008)
Ten years after it became a box office hit, Role Models is still a laugh riot that ends in a shockingly epic game of fantasy role-playing. Paul Rudd and Sean William Scott star as two energy drink salesman roped into a "Big Brothers" program and assigned two troubled children: One a foul-mouthed prankster, the other a socially-inept teenager obsessed with fantasy role-playing.
This film is pretty much responsible for introducing millennials to LARPing, and for that alone it rules. (It's also still really funny.)
Scott Pilgrim vs. The World (2010)
Based on Bryan Lee O'Malley's ONI Press graphic novels, Scott Pilgrim vs. The World is a nerdy riot romp that came at the right place at the right time.
With an ensemble cast including Michael Cera, Mary Elizabeth Winstead, Ellen Wong, Allison Pill, Aubrey Plaza, Chris Evans, Brandon Routh, Brie Larson, Anna Kendrick, and Jason freaking Schwartzman, Scott Pilgrim is an adrenaline-fueled genre bender with ADD that never loses focus of its emotional core. You could watch this movie on repeat the whole weekend and it wouldn't be a waste, but you probably shouldn't, because BoJack.