I Asked Apple for All of My Data. Here's What I Learned.
Apple knows a huge amount about its users.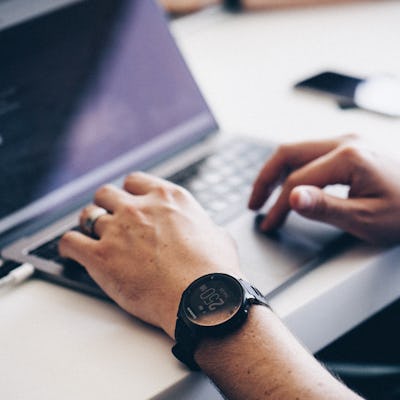 Unsplash / Maxwell Ridgeway
Apple unveiled its Data & Privacy tool on May 23, enabling users to download almost every scrap of data the company holds on them. The tool launched two days prior to the European Union's General Data Protection Regulation deadline, and it's available to accounts registered in a country that's a member of the European Union or the European Free Trade Association. That includes the United Kingdom (for now). Curious to see what I could find, I submitted the request to get my data.
This was always going to be an avalanche of data. My first Apple product was a MacBook I bought in 2008. I've also used an iPhone for nearly 10 years, used an Apple Watch for a few months, and used an iPad for around a year. I pay £2.49 ($3.19) per month for 200GB of iCloud storage, where I keep every photo I've ever taken alongside a smattering of documents. I wasn't quite prepared, however, for just how much Apple knew about my movements and behaviors over the past decade.
Getting the data proved fairly straightforward. Users sign in to the tool with their Apple ID, visit the "Obtain a copy of your data" link, and choose what they want to download. There's no such option for Apple users based in the United States; while they can manage their apple ID account information and view transactions, there's not massive data download option.
After clicking the link, Apple users are greeted with a massive list of data to choose from, and it's at this stage that the scale of this information starts to sink in:
App Store, iTunes Store, iBooks Store and Apple Music activity, Apple ID account and device information, Apple Online Store and Retail Store activity, AppleCare support history, repair requests and more, Game Center activity, iCloud Bookmarks and Reading List, iCloud Calendars and Reminders, iCloud Contacts, iCloud Drive files and documents, iCloud Mail, iCloud Notes, iCloud Photos, Maps Report an Issue, Marketing subscriptions, downloads and other activity, Other data.
This sort of data trove isn't necessarily unique to Apple. Facebook has announced a tool to download all stored data, as has Instagram, Spotify, Google, Microsoft, Twitter, Amazon and more. Developer Dylan Curran demonstrated in March the sheer scale of data Google and Facebook holds on each individual user, and how people could use it to build up a picture of a user.
Pretty much the only information Apple's service doesn't cover is purchased digital downloads, which you can re-download from the store anyway, and Apple online store transaction history or marketing communication. For these latter two, Apple asks users to follow a separate process. Once you've decided what you want, you choose the largest acceptable size per individual file (1GB, 2GB, 5GB, 10GB or 25GB), submit the request, and ideally wait around seven days to recieve the download link.
Nine days later, I got the download link for my decade of using Apple products.
Grappling with a dizzying array of ZIP files, I started to understand just how much Apple knows. It starts with basic things, like iCloud photos that show when I moved to New York. Those photos have dates attached in the EXIF data, and the ones taken on my iPhone have locations attached. That's enough to work out where I was living and when I moved there. But don't worry, if Apple wants to make doubly sure of what I was doing and when, it's all in the calendar data anyway.
Sifting through AppleCare support history, I found a list of devices old and new. I know a few days after I moved to New York, I filed a complaint via e-mail that I never received an in-app purchase. A few months before that, I had an issue with an AC adaptor. These issues traverse a series of devices, tagged with the stores I visited, showing how I got in touch and what my problem was. Digging even deeper, I could pinpoint the exact date and time 10 years ago when I registered my first iPhone with Apple.
Apple's data paints a picture of how I moved, used my time, and blew off steam.
Apple's data paints a picture of how I move, use my time and blow off steam. My Game Center activity shows the date and time I set a high score on Snake '97 using my iPhone seven years ago. One day two-and-a-half years ago, I had a calorie burn goal of 380 per day. After downloading my data, I can tell you the exact date and time from four years ago when I connected to the wifi inside an east London cafe.
None of this should be a surprise. If I revisit that same east London cafe now, I would expect my iPhone to connect to that same wifi again. If I take up a new calorie goal, I want some guidance based on previous workout data. And I'd better not lose that Snake '97 score if I download the game again.
To the casual observer, these all seem like inconsequential specks of data. I don't care if Apple knows that I joined New York JFK Airport's wifi at 16:27 Eastern on September 24, 2014, but if it's paired with the knowledge that I downloaded an iCloud photo three minutes later, and the file size matches with that of a sentimental photo in my library, and my Apple Store bookings show I moved to New York around that time, a picture starts to emerge of how I used my phone during my most emotional moments.
Funnily enough, Apple doesn't mention that in its list of data.