Doctors Finally Constructed a Hierarchy of Healthy Low-Carbohydrate Diets
Some of them "should be discouraged."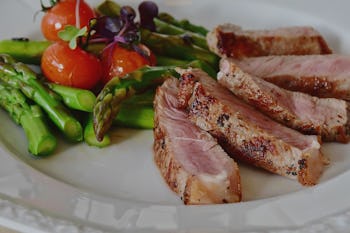 Pixabay
A new study published in The Lancet has finally developed the low-carb diet hierarchy the world has been waiting for. The results, based on an analysis of over 15,000 people over 25 years, give low-carb dieters two pieces of information to chew on: Not all low-carb diets are created equal, and, in general, keeping some carbs in the mix is better than cutting them out.
This study, which one author referred to as "the most comprehensive study of carbohydrate intake done to date," is an attempt to make sense of the increasingly crowded world of low-carb diets.
The authors, a collaborative team from Brigham and Women's Hospital in Massachusetts, Harvard's T.H. Chan School of Public Health, and Harvard Medical School, noticed the diets had become trendy over the past few years. In addition to the Atkins diet, which cuts out carbohydrates entirely but lets you eat as much meat as you want, there are many other trendy plant-based low-carb diets, like the "eco-Atkins." In a world of dieting pseudoscience, this team sought clarity, and their results delivered: The data indicate that both of these diets aren't great ideas, but the plant-based ones may be slightly better for you.
"These findings bring together several strands that have been controversial. Too much and too little carbohydrate can be harmful, but what counts most is the type of fat, protein, and carbohydrate," says Walter Willett, Ph.D., professor of Epidemiology and Nutrition at Harvard T. H. Chan School of Public Health and study co-author,
This analysis points out that plant-based low-carb diets that rely on other sources of protein, like lentils or beans, might win out in the realm of low carb dieting. Co-author Sara Siedelmann, M.D., Ph.D., of Brigham and Women's Hospital tells Inverse that diets that cut out carbohydrates and rely on meat (which are typical of many fad diets in the US and Europe) were associated with even greater risks of "all-cause mortality" in the team's meta-analysis of 423,000 people from 20 countries.
"Our findings add to growing evidence that, animal-based low carbohydrate diets are associated with increased mortality and therefore should be discouraged in the long term," she says.
The results might make some vegans rejoice, but they're hardly cause for celebration. When the team analyzed the health outcomes of eating both types of low-carb diets — in particular, "all cause mortality" — they found that both plant-based and animal-based low carb diets were worse for longevity than eating a normal amount of carbohydrates.
Specifically, their data on 15,000 participants, initially recruited 25 years ago, describe a "U-shaped" curve showing how different patterns of carbohydrate consumption had impacted their overall health. People on both ends of the curve — low-carb diets and high-carb diets — showed higher rates of death over the course of these 25 years.
Seidelman says that she was surprised at how these findings tended to affect people across a wide range of countries, but the specifics might differ from diet to diet. For instance, they might not be completely applicable to certain populations in Asia, where meat-based diets are usually based on lean protein and not red meat, she says.
In that case, there may still be hope for the Atkins diet yet. But in general, this is a tough blow for most low-carb dieters out there. If you're more interested in living than weight loss, then perhaps it's worth considering that Seidelman says that some of these diets "should be discouraged."