Connecticut's Mass K2 Overdose Raises Fears About Fentanyl's Growing Reach
"I really hope people aren't adding fentanyl to these compounds."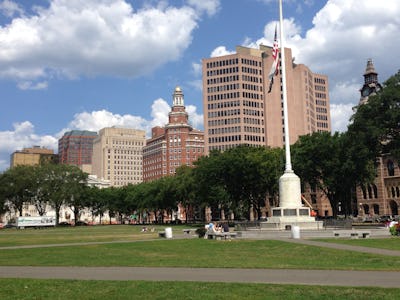 Wikimedia / FastilyClone
On Wednesday, emergency personnel rushed to help 76 people sickened by apparent drug overdoses on the New Haven Green, near Yale University in Connecticut. According to local authorities, beginning Tuesday night and continuing through Wednesday morning, people overdosed from a suspected combination of synthetic cannabinoid K2 and the powerful opioid fentanyl. Illicit pills laced with the synthetic opioid are becoming worryingly common, but fentanyl-laced K2, also known as spice, is relatively unheard of.
Lab tests will confirm what the substance actually was, but four people were treated on the scene, and 72 were brought to local hospitals, reported Connecticut Public Radio. There have been no reported deaths.
Synthetic cannabinoids — basically marijuana substitutes — are well-known to be risky substances, and fentanyl is driving US overdose death rates at an unprecedented level. If the mass overdose in Connecticut really was caused by fentanyl-laced K2, it will provide further evidence that the US drug market is thoroughly infected with the opioid, which is 10 times as powerful as heroin. However, public health researcher Joseph Palamar M.P.H., Ph.D., who keeps his ear to the streets when it comes to drug trends, says he'll believe it exists when he sees proof.
"Fentanyl is indeed popping up in a variety of drugs, but I'll believe it when I see the test results," he tells Inverse. "Police also believed Flakka or other bath salts led to incidents of cannibalism, and in those cases, bath salts were confirmed not to be involved."
Inverse has reached out to the New Haven Police Department for comment and confirmation of the substance involved in this incident, and we will update this article if we hear back.
Although medical personnel didn't know for sure what was in the drugs people had been using, they administered the opioid overdose-reversal drug naloxone, which eventually appeared to help lessen people's overdose symptoms, which included shallow breathing, nausea, and unconsciousness.
The US is experiencing an increasing presence of synthetic cannabinoids, with poison control centers reporting over 1,200 cases involving them as of the end of July, but doctors still don't quite know how to deal with them. Some researchers have made progress on an antidote, which would be like naloxone for K2, but it's not on the market.
As far as Palamar is concerned, it's hard to tell whether fentanyl or synthetic cannabinoids are more worrisome.
"There are hundreds of synthetic cannabinoid compounds and new compounds emerge almost every week. Users and researchers alike know very little about these compounds. And we know even less about how they interact with other drugs or each other (keep in mind that mixtures are often included in these K2 packets)," he says.
And even though fentanyl is dangerous, at least we know how to deal with it.
"We're getting to the point that I don't even know what's worse — this population using dangerous compounds that were invented in a lab last week, or unknowingly using fentanyl which at least we know how to handle in the case of an overdose. Each is a horrible situation although right now fentanyl appears to be much more dangerous. I really hope people aren't adding fentanyl to these compounds because we're already struggling to figure out how to handle the synthetic cannabinoid issue before introducing fentanyl into the equation."