New Apple Filing Suggests Incredible Siri and HomePod Upgrades in the Works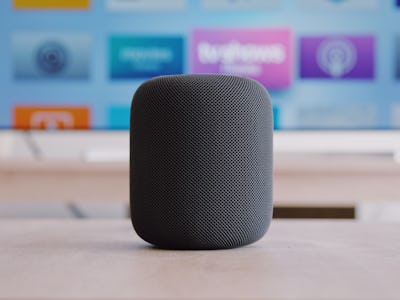 Unsplash / Howard Lawrence B
Currently, each HomePod unit has one true master. Users have to tie the speaker to an Apple ID and from then onward whoever interacts with it will be recognized as that one specific person. But a recent Apple's filing suggests that the signature voice assistant might soon learn how to tell exactly who is speaking to it.
On Tuesday, the Cupertino-based company was granted a patent for a filing titled "User profiling for voice input processing" by the United States Patent and Trademark Office. The listing, first unearthed by Apple Insider, is evidence that Apple's recently formed A.I. team under executive John Giannandrea is gearing up to make Siri smarter.
The patent explains how Apple wants Siri to be able to use a mixed bag of factors ranging from keywords, certain interactions, and even biometric information it refers to as a "voice print." It's unclear whether or not the smart speaker will be able to address users by name, but it seems that Siri will be to seamlessly switch between Apple IDs with a simple voice command.
"The electronic device can identify the user using any suitable approach," states the filing. "For example, the electronic device can identify a user from the content of an input provided by the user (e.g., a user name and password). As another example, the electronic device can identify a user by the type of interaction of the user with the device (e.g., the particular operations the user directs the device to perform). As still another example, the electronic device can identify a user based on biometric information (e.g., a voice print)."
The Amazon Echo is capable of swapping between user accounts, but it requires the person to switch users through the Alexa app or with a specified voice command. Apple's patent seems to want to enable this feature without the users having to say "Switch accounts," and instead recognize the prompt based on a number of other commands.
The filing details that it will construct and keep a "library" of words or phrases that could be used to identify users. Say your roommate loves movies and is constantly asking Siri about what's in theaters. By asking it enough film questions, Siri might be able to learn how to tell when it's your roommate and not you that's speaking to it.
We may wind up hearing some teasers regarding this feature in the September iPhone keynote. But this could the first sign of a larger overhaul of Siri and the HomePod. Whatever it is, it's clear that Apple wants to make its signature voice assistant more intelligent than ever.