HomePod iOS 12 Beta Reveals Plans for Smarter Siri
The speaker could answer a lot more questions soon.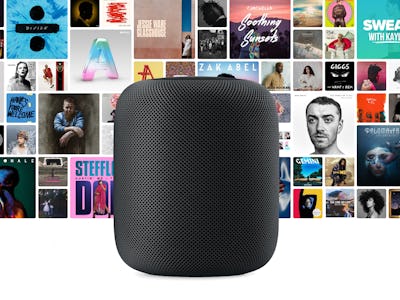 Apple
HomePod, Apple's Siri-powered smart speaker, could soon receive a large number of extra powers. A report on Sunday claimed that an internal private beta of the upcoming iOS 12 software update adds more HomePod features like multiple timers, making phone calls, listening to voicemail and more.
The iGeneration report claims the $349 speaker, which has struggled to distinguish itself from Amazon Echo and Google Home ever since it launched in February, will receive new voice-activated functions. Users will be able to make and answer phone calls, redial, make an emergency call, listen to voicemail and search the call log. New translation features and a broader set of statistics on food nutrition and public figures will provide smarter answers to questions. The device will also be able to switch Wi-fi networks through a simpler process, while "Find My iPhone" support will make locating a device easier. Finally, users will also be able to set multiple timers — a feature still missing from the iPhone.
HomePod runs on an operating system called "audioOS," a variation of the iOS software that runs on iPhones and iPads. Users update the software through the "Home" app on a paired iOS device. However, although Apple demonstrated iOS 12 alongside new versions of macOS, tvOS and watchOS at the annual Worldwide Developers Conference in June, audioOS news was notably absent — bar a brief mention of Siri Shortcuts — leaving community members disappointed.
The new speaker has so far failed to set the market alight. While the prospect of a smart speaker with good quality audio seemed a clear fit for Apple's music streaming services, it claimed just 10 percent market share in its first 10 weeks of sale, with Amazon Echo claiming 73 percent according to Slice Intelligence. HomePod had a six-year development cycle inside Apple, as engineers grappled with how best to approach the concept of an audio-driven computer.
Whether an update to audioOS could change fortunes remains to be seen. With Black Friday on November 23 ahead of the holiday season, HomePod's first full year on the market could end with a turnaround if the company can plug the gaps in its knowledge to take on Amazon.
At least users might finally be able to set more than one timer.