Netflix's 'Voltron' Almost Didn't Get Its Gay Lead Character in Season 7
"We were like, this is important, we can't just water it down."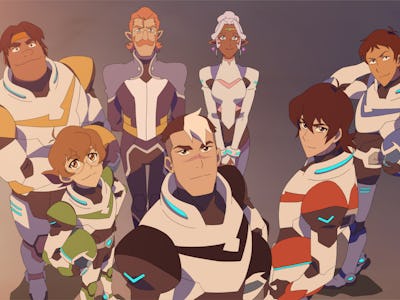 Netflix
Earlier this summer at San Diego Comic-Con, fans of the Netflix series Voltron Legendary Defender were stunned, and then collectively euphoric, to learn that ex-Black Lion pilot Shiro is gay. But the queer representation in the hit sci-fi animation series almost didn't happen.
On Friday, the seventh, penultimate season of Voltron Legendary Defender, the acclaimed reboot of the classic '80s anime Voltron: Defender of the Universe, began streaming on Netflix. And one of the biggest revelations of the season — though it wasn't a secret to the characters — was that Shiro had a fiancé, Adam, waiting for him back home on Earth.
Like all the Paladins of Voltron, everyone left their families to take up a greater cause. But for Shiro, leaving Adam ate at him hard throughout his transformative journey into the pilot of the mythical Black Lion.
"A relationship that strong and that far along, you don't just stop having those feelings," voice actor Josh Keaton, who plays Shiro, tells Inverse. "Even if there are circumstances in life that make it impossible to be together, you still love them. And [Shiro's] doubt is, 'Did I make the right choice? Should I have stayed home and made a life there?' That eats away at Shiro the entire time he's been gone."
But Shiro almost didn't have an Adam to get back to. As it turns out, some unknown decisions behind the scenes nearly forced Shiro's personal life to be more vague than the explicit reveal of Adam as Shiro's fiancé.
"I don't really know all of the going-ons behind the scenes," Keaton carefully makes clear to Inverse, "but it almost wasn't going to happen." Alternate takes of Shiro and Adam talking to each other were recorded that were way less explicit about their relationship. "We had to record other stuff to make it more vague," Keaton says.
But the cast and crew of Voltron never gave up, knowing full well what it meant to have a character like Shiro be gay in an all-ages, action-adventure cartoon. "All of us were really clamoring for it," he says. "We were like, this is important, we can't just water it down. I was really upset about it. Bex [Taylor-Klaus] was really upset about it."
Luckily, things turned around. "Everybody came together because it was something all of us felt was important to see and to have. Even the PR people at DreamWorks helped a lot. Everybody was on the same page."
Not only was Shiro's queer identity welcomed by the passionate Voltron fanbase, it also resulted in "Shiro" trending worldwide on Twitter during the Comic-Con panel. Keaton, who stayed home as to not "overshadow the moment," was obsessively checking social media when the announcement was made.
"I didn't want to take away from Shiro's moment," Keaton says, laughing. "Once I was sitting at home and obsessively going online to try to find anybody live-tweeting, I was like, what's going on? At that point I was deciding I should have been on the panel to hear everyone's reaction. Some MVP out there didn't listen to the rules and put up a bootleg recording of that part of the panel, so I did kind of experience it."
When Shiro made the top of the worldwide trends on Twitter, Keaton archived the moment as a memento for himself.
"I screenshotted my Twitter trend because I was like, I gotta remember this. This is the closest I'll ever come to trending worldwide and that's totally okay. It made me so happy people were celebrating. It was a joy."
Voltron Legendary Defender Season 7 is streaming now on Netflix.