'The Flash' Will Get Another Genderbent DC Comics Supervillain in Season 5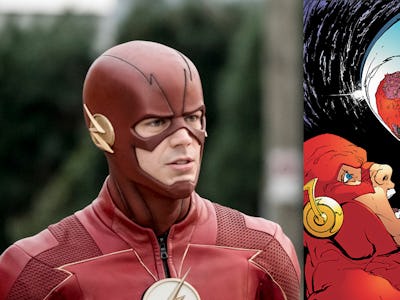 The CW / DC Comics
Over on The CW, The Flash has an interesting history of gender-bending several villainous roles from the comics for new versions of the characters, and there's about to be one more in Season 5 named Spin.
Deadline and other outlets reported Thursday that actress Kiana Madeira had been officially cast in the recurring role of Spencer Young, aka Spin in The Flash Season 5. She'll be introduced in Season 5, Episode 4 and, according to Deadline, is "a young aspiring social media influencer who seizes the opportunity to make herself famous when she discovers there is a new hero in Central City."
Chances are high that the "new hero" in question is Iris and Barry's daughter Nora West-Allen from the future, who was revealed in the Season 4 finale. We don't actually know her superhero name just yet, but it seem likely that she'll get branded as something in Season 5 if she doesn't bring a persona with her to the present day.
Traditionally in DC Comics, the villain Spin is a man named Mr. Auerbach. He's also a media mogul who imprisons a meta-human that can turn peoples' fear into reality, so Spin uses this to summon distractions that allow him to steal valuable items. He also uses it to deliberately smear The Flash's reputation in Central City. At one point he even tries summoning Gorilla Grodd to help take down The Flash.
It's unclear just how much of Spin's comic book history will make its way into The Flash, but the new Spin being a millennial social media influencer sure seems like an apropos adjustment for this day and age.
Previously, other gender-bent villains joined the show in Season 4 with Null for the Kevin Smith-directed "Null and Annoyed" and before that in Season 3 with Top in "The New Rogues."
The Flash Season 5 premieres Tuesday, October 9, 2018 at 8 p.m. Eastern on The CW.