Leaked Galaxy Skin Could Be a Samsung 'Fortnite' Exclusive
More proof of the Samsung and Epic partnership.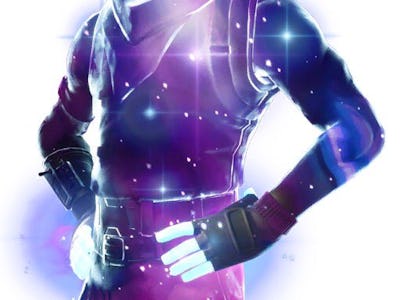 Fortnite Insider
Epic Games applied the v5.20 update for Fortnite: Battle Royale Tuesday morning, and data miners immediately went to work on the update in search of anything new. There was a slew of new skins for players, but one in particular appears to be an exclusive item for the upcoming Android version of the game.
Fortnite Insider posted images of the new skins found in the v5.20 update, and the Galaxy skin stands out from the rest. Unlike the other outfits, Galaxy is not available in the Item Shop, which means it won't be available for purchase when it comes out. This fits with the news that came out in July of Samsung Galaxy Note 9 owners having exclusive access to the Android version of Fortnite: Battle Royale and receiving special items, such as 15,000 V-Bucks when they bought the phone. Also, the name of the skin, Galaxy, is a bit on the nose.
So far, Epic nor Samsung confirmed the Fortnite: Battle Royale Android exclusivity, however, there are multiple reports stating the partnership is happening and the code in the game's APK states it requires the latest version of the Samsung Galaxy App store. The suggested deal for the game is Galaxy Note 9 owners will have exclusive access to the game for 30 days and then the next 90 days will be exclusive to Samsung smartphones.
Along with the new Galaxy skin, there were several other skins included in the new game data. Most are the standard fare of interesting outfits, but one rumored for weeks is the Durr Burger skin, called the Beef Boss, which is reminiscent to the Tomato Head outfit.
Samsung will hold its Galaxy Note 9 event on Thursday. Expect to learn more about this exclusive deal for Fornite: Battle Royale on Android.
The v5.20 update for Fortnite: Battle Royale saw the addition of the Double Barrel Shotgun and new Limited Time Mode called Steady Storm, which will have the storm continuously shrink during a match making games more interesting.