Everything You Need to Know About the New Double Barrel Shotgun in 'Fortnite'
"Devastating at close range."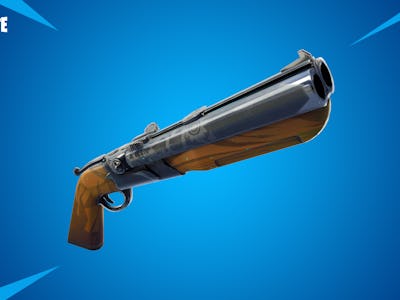 Epic Games
Yesterday, we learned that Fortnite: Battle Royale would add yet another weapon to the game with the Double Barrel Shotgun. Today we're getting more info about the new addition, along with everything else that's coming to Fortnite thanks to some official v5.20 patch notes from Epic Games.
Fortnite Double Barrel Shotgun: Stats, Damage, and Rarity
Epic describes the Double Barrel Shotgun as "devastating at close range," adding that each of its two shots really "packs a punch." Beyond that, we also know that the Double Barrel Shotgun will be available in Epic and Legendary versions, and you'll be able to find it from chests, supply drops, vending machines, and good old-fashioned floor loot.
When it comes to actual damage stats, the Double Barrel Shotgun really does pack a punch, especially at close range. The Epic version deals 143 damage at very close range, while the Legendary version amps that up to 150 damage. That's enough to take out most opponents, even if they've got some shield for extra protection.
Of course, this is a shotgun, so at a distance, it won't be much use. The fact that you only get two shots per reload also means you'll have to be precise, or you could end up at a serious disadvantage.
Everything Else in the Fortnite Version 5.20 Update Patch Notes
Beyond the new shotgun, update 5.20 also adds a new limited time mode called Steady Storm, where the storm shrinks continuously. This should make for a faster-paced game, but it won't be very useful if you're trying to complete your Season 5 challenges.
There's also a bunch of small tweaks and bug fixes. For example, the remaining time left in the Item Shop and Event Store will now display correctly. You can check out the full list of Fortnite version 5.20 patch notes right here.
Follow Inverse on Twitch for more episodes of Squad Up: The Fortnite Talk Show.