'Fortnite' 5.2 Update Could Have a Break Barrel Shotgun and Two New Snipers
But when are they coming to the game?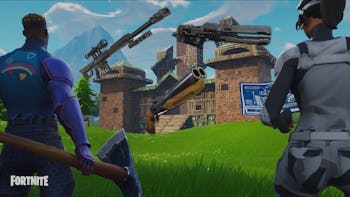 Epic Games / Bungie
Even more weapons are coming to Fortnite: Battle Royale if recent data-mining turns out to be true (which it often does). Here's what you need to know about the Break Barrel Shotgun and everything else that leaked.
On Sunday, XDA Junior Member thesbros data-mined Fortnite on behalf of XDA Developers and found tons of new items that were added to the game files recently. Among them are new skins, emotes, gliders, pickaxes, and three new weapons: break-barrel shotgun, heavy sniper, and the rail sniper.
This seemingly confirms leaks from late-July that hinted at a heavy sniper rifle capable of shooting through walls. The new data mined from the game does corroborate the previous leaks, indicating a "lower reload time" and something about how the "first shot pierces wall." And because it's already in the Save the World mode, some players have previous experience with the weapon.
The break-barrel shotgun also seems like it could be a game-changer, even though it looks remarkably similar to the more typical pump shotguns.
The Fortnite database website Stormshield.One refers to this item as a "Break Action Shotgun." (This refers to when a weapon folds open on a hinge for reloading.) The descriptions reads: "Break-Action. Deals high damage at a fast fire rate. Short range and ver limited magazine size." Much like it does in real life, this weapon allows for very fast shooting at a limited magazine capacity. Expect it to do a ton of damage at close range but come with a long reload time.
The Break Barrel Shotgun deals 13.2 damage at close or mid-range and 11.88 damage at long range, according to Stormshield.One. It has a release time of 2.7 seconds and a magazine size of two. You can check out the full stats right here.
As for the rail sniper, this weapon archetype uses electromagnetic force to launch projectiles, so it usually deals a lot of damage but has to be charged before shooting. We haven't seen one in Fortnite just yet, but plenty of other sci-fi shooters utilize this kind of weapon.
At this time, it's unclear exactly when this patch might drop, but it's likely that downtime for the update could happen on Tuesday, August 7 at 4 a.m. Eastern.
Follow Inverse on Twitch to watch Squad Up: The Fortnite Talk Show.