'Fortnite's New Steady Storm LTM Is the Most Harrowing Game Mode So Far
The storm's more dangerous than ever.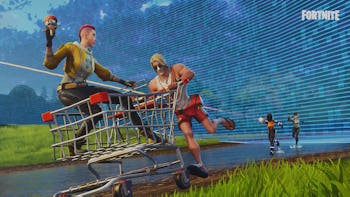 Epic Games
The most frenzied new game mode to hit Fortnite: Battle Royale is a far cry from the relaxed, creative experience that is Playground LTM, and it provides a much more stressful game type by doubling down on the game's fundamental mechanic. "Steady Storm" is just that, a game mode where the storm never stops closing in and forces you to cooperate with a squad.
Epic Games rolled out the version 5.20 patch on Tuesday morning, and the official patch notes offer further details on the new limited time mode. "This Storm waits for no player and there are no safe zones," the official description reads. "Stay aware of the map and keep moving it to the center of the circle in the Steady Storm LTM."
In this game mode, the storm constantly moves inland, but the map doesn't provide a projection of where it's going. So players have to constantly be on the move and estimate where the storm will go next, constantly adjusting their course while contending with other players.
In short, it's traditional Fortnite: Battle Royale enhanced by its most stressful mechanic. Because there's nothing more embarrassing than getting killed by the storm, right?
The storm constantly closes in over the course of 15 minutes, so all of these matches are fairly short, especially when the storm consistently does 10 points of damage every second. 20 seconds in the storm is enough to kill even players with full health and shields, assuming they don't heal at all.
All things considered, this will change the core tactic of how people play the game. Rather than tracking towards the center of the safe zone and posting up on a peak with a self-made fort, everyone has to be a little more flexible.
Follow Inverse on Twitch to watch Squad Up: The Fortnite Talk Show.