An Internet Dissection of the 'Melania Is Bad at Gardening' Meme
The internet had a lot to say.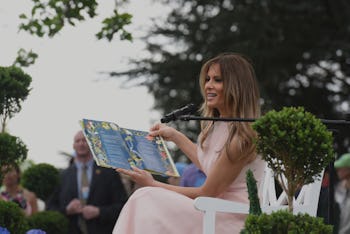 Flickr
It's the summer of Trump memes, as the internet seemingly attempts to cope with the devastating news cycle from Capitol Hill by making fun of the First Family's outlandish antics. Unlike a joyful sitcom with a happy conclusion each episode, this is the state of US politics, and the Trumps wield their ability to distract on a near-daily basis, whether or not it's intentional.
This week, the internet jumped at the chance to collectively wonder aloud why First Lady Melania Trump would wear a $1,350 Balmain shirt for gardening. As far as Melania's meme-able moments have gone in the past, this gardening debacle sits somewhere between when she appeared to refuse to hold her husband's hand and the time she wore a "I really don't care, do u?" jacket en route to visiting migrant children kept in cages.
When examining the photo, it does become clear that there's some comedic potential. Melania's stance is awkward and stilted, as if she's afraid to get her clothes and hands a little dirty. (Michelle, by comparison, looked right at home in a garden.) Her outfit is both expensive and impractical for the physical exertion gardening demands. And, as Twitter highness Chrissy Teigen most eloquently pointed out, the sneakers she's wearing are store-bought white. Fresh from the shoe box. No, Melania clearly is not one with nature.
Twitter reactions to pictures of Melania gardening range from sarcastic calls to rescue her from President Donald Trump to unbridled anger at her more offensive missteps, like when she seemingly plagiarized a speech from Michelle Obama. The undercurrent is one of pity and skepticism, being that this is the woman who rarely speaks out publicly, appeared to go missing for a month, and delivered bizarre sound bites like this on live TV. There were also, of course, a fair number of meme crossovers.
While Melania's photo-op was dressed up with expensive, brand-new clothes, and many on social media seemed to interpret the image as lacking self-awareness. As many have pointed out, there doesn't even appear to be anything in the prominently featured basket. The meme itself is arguably absurdist, but in 2018, we all deserve a good chuckle.