María Rebecca Latigo de Hernández: 3 Immigrant-Helping Groups She Founded
The activist spent her life advocating for Mexican American rights.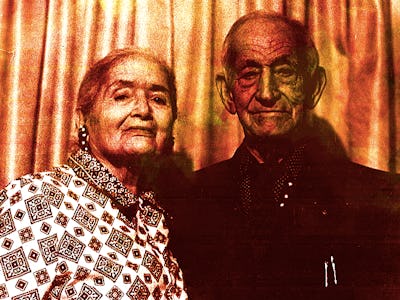 Alan Hernandez
María Rebecca Latigo de Hernández helped lead more than two generations of activism in Texas. She spent her life advocating for the rights of Mexican immigrants and Mexican Americans, centering in on causes that activists still fight for today: the elimination of poverty, nondiscriminatory education, and the right to ethical health care. On Sunday, on what would be her 122nd birthday, Hernández's achievements were honored with a Google Doodle.
From the 1920 to the 1970s, Hernández was an "untiring fighter" for civil rights. Over the course of her life, Hernández took on many roles: mother, union supporter, radio announcer; teacher. She also helped found three organizations that strove to improve the position of Mexicans in Texas and their existence helped paved the way for Chicano activism today.
Orden Caballeros de America (Order of the Knights of America)
Hernández co-founded this benefit society dedicated to educating Mexican Americans about their rights. According to the book The Latino/a Condition after World War I many Mexican Americans returned from services in the armed forces "no longer content to accept treatment as second class citizens." Consequently, a number of civic organizations designed to aide Mexican Americans popped up throughout the 1920s. One of these was Hernández's Order of the Knights of America, which focused on advancing the "economic and political interests" of Mexican Americans.
La Liga de Defensa Pro-Escolar (The School Defense League)
Hernández, along with her husband Pedro and a furniture store owner named Eleuterio Escobar, established La Liga. The primary objective of this organization was to improve the educational facilities in San Antonio's predominantly Mexican West Side. At the time these schools were segregated and Hernández said they were more like "firetraps" than places designed to help children.
"The Mexican schools were in such a bad state and our children were suffering," she announced in interviews at the time. "Clearly, the children were bearing the effects of racial discrimination."
Associación Protectora de Mades (Association for the Protection of Mothers)
Somehow Hernández also found the time to train as a midwife in 1920. This process inspired her to begin fundraising for the building of a maternity clinic, a decision that culminated in the creation of the Association for the Protection of Mothers. According to the book No Small Lives Hernández not only provided free prenatal care and delivered babies, "but she also comprehended the dire economic status of her patients and allowed them to make payments throughout the duration of their pregnancy."