María Rebecca Latigo de Hernández's 1934 Radio Address Inspired Decades of Activism 
It only takes on voice to start a movement.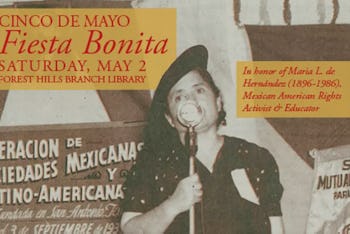 Some of the most resounding civil rights movements in history were started with a single voice. On Sunday, Google commemorated the 122nd birthday of educational and economic rights activist, María Rebecca Latigo de Hernández, with a Google Doodle.
Hailing from Garza García, Mexico, Hernández moved to San Antonio, Texas in 1918 with her husband where she would become the first Mexican-American female radio announcer. It was there where she embarked on a lifelong political activism. Hernández was pivotal in the organization of multiple associations that promoted women's rights and provided educational resources for Mexican-Americans, like the League of United Latin American Citizens (LULAC) that is still active today.
In 1934, Hernández spoke on the "Voz de las Americas" radio program to advocate for the formation of the Council 16 of LULAC — a local division of the group. This coalition worked to encourage equality for all Mexican-Americans and is currently the largest and oldest Hispanic organization in the United States.
Hernández was the only female speaker at Council 16's first meeting that year. The LULAC now has over 900 councils nationwide that push for the same causes that she dedicated her life to.
"The mission of the League of United Latin American Citizens is to advance the economic condition, educational attainment, political influence, housing, health and civil rights of the Hispanic population of the United States and Puerto Rico," reads LULAC's mission statement.
The group works towards achieving these goals by programming events that empower Hispanic-Americans of all ages to fight discrimination and participate in government.
LULAC is just a piece of the widespread impact Hernández had on the Hispanic civil-rights movements. The speeches she gave on the radio soon turned to regular televisions appearances in the San Antonio area, circa 1968.
Her staunch support for access to education and civil rights continued until she died of pneumonia in 1986 at the age of 90. She is buried near Elmendorf, Texas and to this day is a symbol of how a singular voice can empower a generation of activism,