María Rebecca Latigo de Hernández: Why She Was an "Untiring Fighter" 
Today would have been her 122nd birthday.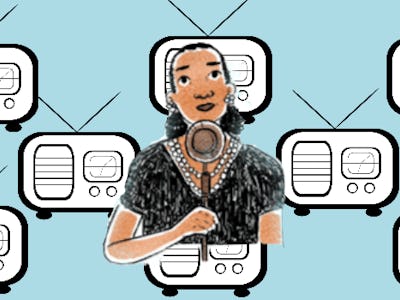 Pixabay/Google
On Sunday, Google celebrated the 122nd birthday of María Rebecca Latigo de Hernández with a Google Doodle. Born in 1896 in Garza García, Mexico, by the time Hernández was 28 years old she was already a vocal activist for educational access and economic rights.
A lifelong champion for women and children of Mexican descent, Hernández died with the reputation of being an "untiring fighter."
Hernández's passion for education began at an early age. Her father, Eduardo Frausto, was a professor and while she still a teenager Hernández taught elementary school in Monterrey, Mexico. She married in 1915 and because of Mexican Civil War moved with her husband, Pedra Barrera, to San Antonio, Texas in 1918. It was there where she dove into political activism: The couple became involved in local politics in 1924 and when on to help found the Order of Knights of America in 1929. This society was dedicated to advocating for the civic and political rights of Mexican Americans and Mexican immigrants and was especially focused on enabling Mexican access to education.
Hernández when on to organize two more organizations dedicated to desegregating schools and providing financial aid to mothers in need. Not content with being an organizer alone, Hernández became San Antonio's first Mexican-American female radio announcer in 1932. As an orator, she used her voice as a perpetuation of her fight against injustice and inequality.
Famously, she spoke on a popular program called "Voz de las Americas" in 1934 as an advocate for the League of United Latin American Citizens. Her support of the league helped it become the first nationwide Mexica-American civil-rights organization. Today it is the oldest and largest continually active Latino political association in the United States and remains committed to dealing with the issues that were passionate to Hernández: the right to housing and public accommodations, equal access to education, and the elimination of poverty within Mexican and African American communities.
Hernandez went to live to the rich age of 90, dying two decades after becoming an active member of the Raza Unida Party. Today she is buried outside of Elmendorf, Texas and she continues to be an inspiration to civil rights leaders in their fight for the rights of Mexican migrants.