Lyudmila Rudenko Was a Pro Gamer Before There Were Pro Gamers
Rudenko was a global chess champion for three years.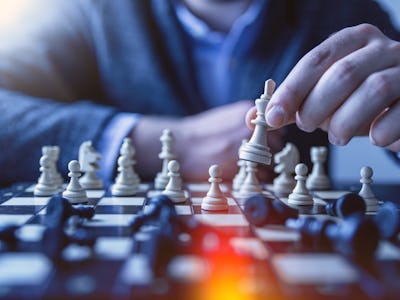 Unsplash / JESHOOTS.COM
Google celebrated the life of Lyudmila Rudenko, arguably one of the first female professional gamers, with a commemorative homepage "doodle" Friday on what would have been her 114th birthday. The Ukrainian chess player rose through the ranks to claim the title of women's world champion from 1950 to 1953, but Rudenko considered her proudest achievement to be organizing the evacuation of children in Leningrad during World War II.
Born in Lubny in 1904, Rudenko started playing chess at the age of just 10, but she initially started her career as an economic planner in the city of Odessa. In Odessa, she refined her interest in swimming to place first in a 400-meter breaststroke. She didn't compete in chess tournaments until she moved to Moscow in 1925, three years after the establishment of the Soviet Union, to serve on an economic planning committee for the new state. She won the city's women's chess championship in 1928 during this period. She then moved to Leningrad the following year to continue working for the government, where she would organize the evacuation.
In 1946, Rudenko was exposed to the limelight when she beat Rowena Bruce in two radio-broadcasted matches between the United Kingdom and the Soviet Union, enabling her team to storm to victory. This held particular significance in the country: Writer John Graham noted that chess was "an intellectual cause celebre in the Soviet Union…success in the game was an important demonstration of the success of the revolution, inside and outside the country."
The 1944 death of Vera Menchik-Stevenson, considered the first women's international chess champion, set the wheels in motion for the World Chess Federation to organize a Moscow tournament in 1949. Rudenko claimed the top prize with nine wins, five draws, and one loss, granting her the title of international master. She lost to Elizaveta Bykova in 1953 with just five wins, two draws, and seven losses, but would go on to receive the title of woman grandmaster by 1976.
Rudenko paved the way for numerous other women chess champions, with the title changing hands 18 times since Bykova's victory. Current title holder Ju Wenjun told South China Morning Post that "there is no simple way to achieve success [in chess], you just need to keep working."
It's not the first time Google has paid tribute to a female pioneer. Previous doodles highlighted the life of author Maya Angelou, physician Elizabeth Blackwell and artist Paula Modersohn-Becker.