How Maya Angelou, Champion of Women's Rights Gave Voice to Millions
Angelou was celebrated through her poem "Still I Rise."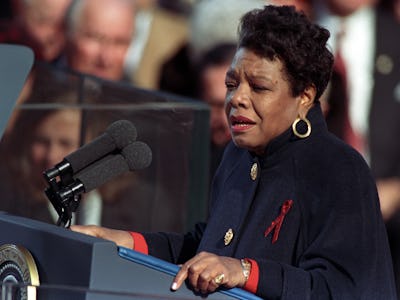 Wikimedia Commons
Google Doodle commemorated the life of poet and author Maya Angelou on Wednesday with a homepage sketch on what would have been her 90th birthday. Angelou shot to stardom after her 1969 memoirs, "I Know Why the Caged Bird Sings," became the first non-fiction bestseller by an African-American woman.
Born in 1928 in St. Louis, Missouri, Angelou had a tough upbringing. She spent five years virtually mute after a sexual assault at the age of seven. Angelou went on to accept a scholarship to California Labor School during World War II, when she also became San Francisco's first African-American female streetcar conductor. From there, she went on to write a bestseller, tour Africa as a journalist, toured as an opera cast member and learned multiple languages, advocating for peace and gender equality in the process. In a statement released by Google, Oprah Winfrey said that her friend Angelou "moved through the world with unshakeable calm, confidence, and a fiery, fierce grace and abounding love."
Perhaps her most famous work is "I Know Why the Caged Bird Sings," which covers her life from the ages of three and 17. She moves between care from family members, facing challenges of racism, displacement, and sexual assault. Renewed interest in the book from the inauguration led to it re-entering the bestseller list for over 30 weeks, 23 years after publication.
Angelou received numerous awards in her career, including more than 50 honorary degrees, two NAACP Image Awards and a Chicago International Film Festival Audience Choice Award. At Bill Clinton's inauguration in 1993, she became the first poet to recite since 1961, when Robert Frost recited at John F. Kennedy's inauguration. Angelou wrote and recited "On the Pulse of Morning" especially for the occasion.
The Google Doodle displayed on the homepage features Angelou's voice reciting her 1978 "Still I Rise," alongside Alicia Keys, America Ferrera, Martina McBride, Guy Johnson, Laverne Cox and Winfrey. Cox described Angelou as "a national treasure we should always celebrate."
It's not the first time Google has paid tribute to a famous figure on its homepage — previous sketches have commemorated Martin Luther King Jr., Virginia Woolf and "father of montage" Sergei Eisenstein.