Elizabeth Blackwell: How the Physician Pioneered for Women in Medicine
The first woman to graduate from medical school in the United States would be 197 today.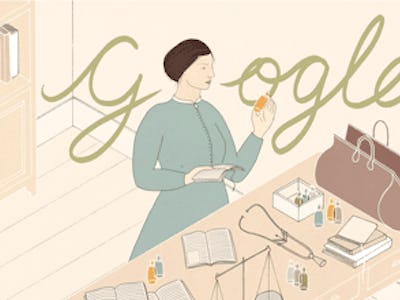 Google
The Google Doodle of February 3 shows a woman wearing a long-sleeved blue dress with an open book in one hand and a small orange vial, which she is examining, in the other. Laid before her on a table is an open physician's bag and doctor's tools.
This is Elizabeth Blackwell, the first woman to receive a medical degree in the United States, an abolitionist, women's rights activist, and pioneer for women in medicine on both sides of the Atlantic.
Born in 1821 in Bristol, England, her family emigrated to the United States when she was 11 years old. After her father died, she set up a school with her sisters in 1838 and became involved in the abolitionist movement after being exposed to the horrors of slavery while teaching in Kentucky. She went on to found a Sunday school for slaves and campaigned against slavery.
Years later, the death of a close female friend from a terminal illness prompted Blackwell to seek a second career in medicine, since her friend believed that she would have received better care had a female physician attended to her.
Blackwell applied to numerous medical schools, most of whom would not admit a woman, and one institution even suggested that she apply as a man instead.
Finally, Geneva Medical College in upstate New York agreed to consider her application, but gave the ultimate decision to the student body, believing they would never accept a woman within their ranks. To the college administration's surprise, however, the student body voted to accept her, and she was admitted in 1847. She graduated two years later, becoming the first woman in the United States to earn a medical degree.
After graduation, she returned to Europe, working at clinics in Paris and London and studying midwifery. During this time, she contracted purulent ophthalmia and lost sight in her left eye.
Soon after, she returned to the United States to set up her own medical practice, which she opened in 1851, and then a dispensary in 1853.
With her sister, who had followed her into medicine, she started the New York Infirmary for Indigent Women and Children in 1857, and later returned to England to try to start a similar infirmary in the United Kingdom. In 1859, during one of these visits, she became the first woman to have her name entered into the register of the British General Medical Council.
In 1868, she added a medical school to the New York Infirmary for Indigent Women and Children, and the following year, she returned to the United Kingdom to continue to campaign for reform in medicine, especially opportunities for women in medicine. She founded the National Health Society in 1871, and NHS's motto, "Prevention is better than Cure" has become a common philosophy not just in medicine, but in society writ large.
Then, in 1874, she started the London School of Medicine for Women, and in 1876, she officially won the right for women to pursue medical degrees.
Blackwell passed away in May 1910, and as a testament to her legacy, a year after her death there were 500 female physicians registered across the United Kingdom.