Tesla Model 3 Performance Edition Reaching Customers: What to Know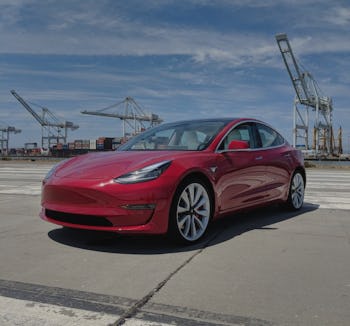 MKBHD/Instagram
Tesla has started deliveries of the Model 3 performance edition and dual-motor-upgraded vehicles, marking the start of a new edition of Tesla's cheapest electric car hitting the roads. The news is a big step for the firm, as it's worked over the past 12 months to ramp up production and endure a blistering work schedule to expand the company.
Electrek reported on Friday that several buyers have confirmed the start of deliveries, with cars expected to reach homes over the coming days, far sooner than the initially-anticipated window of several weeks. The news comes just two months after CEO Elon Musk initially announced the $78,000 performance model and $5,000 dual-motor upgrade for the already-shipping long-range edition. It also comes just days after the performance edition reached Tesla stores, enabling prospective customers to take a test drive before placing their $1,000 deposit. The shipments revealed the car has a "miles per gallon equivalent" of 116 on average, a shade worse than the 126 MPGe of the long-range model.
YouTubers like Marques Brownlee (also known as MKBHD) have been getting to grips with the new car, discovering how Tesla improved on the long-range model. The car features a "track mode" that tweaks the handling to allow for easier over and understeering. This is alongside the previously-announced new top speed of 155 mph and 0 to 60 mph acceleration time of 3.5 seconds. The price also includes 20-inch performance wheels and a variety of color changes and options.
Still absent from Tesla's Model 3 lineup, though, is the $35,000 base model. Tesla has so far only produced the long-range edition with premium upgrades package, meaning the car retails for $49,000. The longer range version offers 310 miles of driving on a single charge, more than the 220-mile version, but the cheaper car will enable more buyers to enter the Tesla fray at its cheapest ever price point.
"With production, 1st you need achieve target rate & then smooth out flow to achieve target cost," Musk wrote in May. "Shipping min cost Model 3 right away wd cause Tesla to lose money & die. Need 3 to 6 months after 5k/wk to ship $35k Tesla & live."
With Tesla having produced 5,000 Model 3s at the end of June, the cheaper edition could launch before the end of the year.