Tesla Model 3 Performance Edition Reaches Stores and Reveals 3 Key Details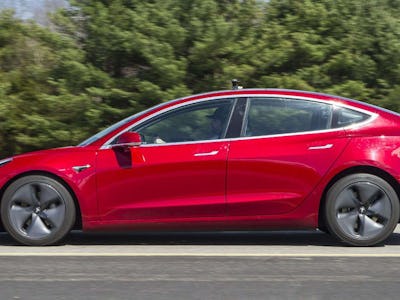 Flickr / nordique
The Tesla Model 3 performance edition is almost here. Just one week after CEO Elon Musk revealed the high-performance electric car would hit roads "very soon," a Reddit user shared the first images of the newly-delivered car ready for test driving on Sunday.
The user called "TheHalfChubPrince" snapped a number of images of Tesla's $78,000 vehicle, which offers a top speed of 155 mph and acceleration times of 0 to 60 mph in 3.5 seconds. Musk teased on July 10 that the company had already made 100 performance edition models for in-store test drives, no small feat considering the company's monumental efforts to produce at least 5,000 Model 3 vehicles overall per week and expand the company.
The new edition is reaching consumers soon. The new images reveal a few key details:
3. It's Less Efficient Than the Standard Car
The images show a Monroney sticker that details the car's equivalent fuel efficiency. The Environmental Protection Agency ranks every electric car's miles per gallon gasoline equivalent to determine its use of energy. The agency has decided that one gallon of gas has 115,000 BTUs of energy, or approximately 33.7 kilowatt-hours.
The long range model of the car featured 131 MPGe for city driving, 120 MPGe for highway driving and 126 MPGe for a combined average. The 2016 Nissan Leaf, by comparison, offers 112 MPGe. Electrek notes that the Hyundai Ioniq Electric is the highest-rated electric car on the agency's terms, offering a staggering 136 MPGe.
The performance edition won't be winning any efficiency prizes, with an apparent rating of 116 MPGe.
2. The Brakes Look Incredible
Musk had already promised that the new vehicle would feature red brake calipers and "sport level brakes," and the new images show them up close in action. It's one of several cosmetic changes the car makes from the standard edition, which also includes a carbon fiber spoiler and 20-inch performance wheels as standard.
The new brakes aren't just for show, though. Tesla has boosted the brakes to counteract the performance boost from the other internal changes.
1. The White Option Covers the Dashboard
As part of the promised premium-level boosts, Tesla is offering external paint changes, internal seat color changes, and all optional extras as part of the asking price — minus the semi-autonomous Autopilot mode. One of these is the white interior, set to reach other Model 3 vehicles later on, and the new images show how the new option looks as part of the dashboard.
The Model 3 may be Tesla's cheapest ever car at a $35,000 starting price, but the performance edition is showing the company's premium talents at a higher asking price.