Elon Musk Teases When Tesla Model 3 Performance Edition Will Hit Roads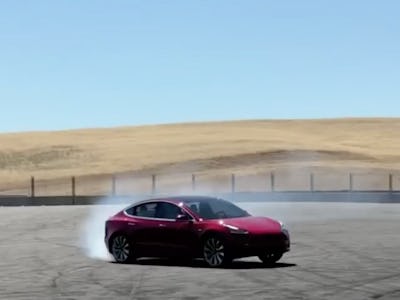 Tesla/Instagram
The Tesla Model 3 is about to get a whole lot faster. On Tuesday, CEO Elon Musk shared an update on the performance edition of Tesla's cheapest ever electric car, a $78,000 model that offers faster acceleration times while retaining the same minimalist design — and it looks like it's about to hit the roads "very soon."
The performance edition was announced in May alongside a $5,000 all-wheel-drive optional extra for other models that start from $35,000. While Tesla has been working since July 2017 to fulfill the backlog of around 400,000 reservations, the new option grants those that have yet to receive their vehicle the option to wait a bit longer in the name of higher performance. Tesla fan Ryan McCaffrey noted that his May 20 order has yet to receive a vehicle identification number, but Musk assured him that the car is shipping soon. Musk also revealed that Tesla has produced around 100 performance models for in-store test drives.
The performance edition adds a welcome speed boost to the Model 3. It takes the 310-mile Long Range edition of the car as its starting point, but offers a 155 mph top speed compared to the 140 mph of its predecessor, plus an acceleration time from 0 to 60 mph in 3.5 seconds compared to 5.1 seconds. It's also the first Model 3 to offer either black or white interiors, plus a carbon fiber spoiler, red brake calipers and 20-inch performance wheels.
The car packs all the options, wheels and paint changes into its asking price, meaning users won't have to shell out $1,000 to switch in a new coat of paint. It also includes the changes from the $5,000 all-wheel-drive upgrade, with an AC induction front motor optimized for power that complements the partial permanent, switched reluctance magnet rear motor optimized for range. Unlike the add-on, the motors are sorted for highest performance. The big change the price doesn't include, though, is Autopilot semi-autonomous driving.
The performance edition is likely to reach consumers soon, judging by Musk's tweet. The company met its goal in June to produce 5,000 Model 3 vehicles, and it's now planning to continue this development and get the cars out to consumers.