Tesla Model 3 Performance Edition Features 'Track Mode' For Extra Boosts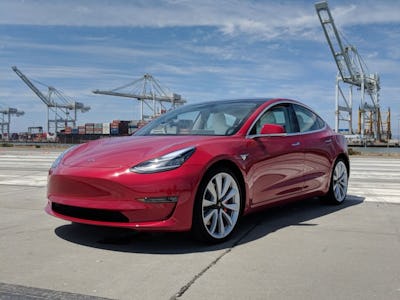 MKBHD/Instagram
The Tesla Model 3 performance edition will supply a number of speed-focused features for better track driving. On Monday, YouTuber Marques Brownlee (also known as MKBHD) uploaded an Instagram video of his test drive of the car, where he revealed a new Track Mode that gives "basically a whole new feel to the drive."
The reveal is the latest addition to Tesla's upcoming $78,000 car, billed as a high-speed version of the $35,000 car that serves as the company's cheapest-ever electric vehicle and entered production in July 2017. The new mode, which may ship under a different name, changes the drive feel to enable easier oversteering, understeering, turning and drifting — which Brownlee notes "doesn't sound like any normal car drifting you've ever heard." Tesla's description in the video states: "Select Track Mode to enable Tesla's performance-oriented stability control and powertrain settings configured for track driving. This mode is designed to be used exclusively on closed courses. For the best experience, only progress to track mode once familiar with the track."
Brownlee's two-hour test drive is one of the first captured demonstrations of the new edition outside of internal company tests. CEO Elon Musk announced the new version in May alongside a dual-motor option for existing models, but until now the Track Mode had been a guarded secret. The company told Electrek that Tesla developed its own vehicle dynamic control system, also known as a VDC, which enables the firm to offer features like these in the new model.
Beyond the new mode, the car offers faster acceleration rates and higher top speeds than the Long Range Edition, reaching 0 to 60 mph in 3.5 seconds rather than 5.1 seconds and a top speed of 155 mph rather than 140 mph. The vehicle is also set to offer better handling and 15 percent faster speeds than the BMW M3. The asking price also includes the option of a white interior, color changes, and 20-inch performance wheels.
Tesla may provide more information about the new car at its second quarter earnings call, scheduled for August 1 a 2:30 p.m. Pacific time.
With the new edition wowing third-party reviewers, it seems Tesla may be onto a winner.